A
B
C
D
E
F
G
H
I
J
K
L
M
N
O
P
Q
R
S
T
U
V
W
X
Y
Z

NEW

Links
Main



W



Wade, Nancy - From the TV show The Rockford Files (03/07/75). Thanks to Kim Newman for this one.

Waffles - See Spinal Tap.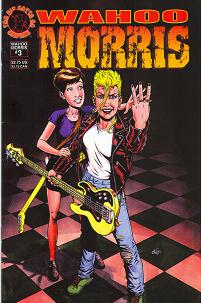 Wahoo Morris - From the comic book Wahoo Morris (1998). From a short lived (3 issue) comic book series of the same name. Continued online at www.wahoomorris.com

Walker, Clarence - From the TV show Saturday Night Live (02/11/84). Clarence Walker (Eddie Murphy) is interviewed in the "Rock and Roll and Then Some" skit claiming to have played saxophone for the Beatles before being kicked out of the band in 1963. He also claimed The Beatles' original name was "The Clarences." Thanks to Gaeln Black, Tom Dempsey for this one.

Walker, Zane - Successful musician from the "Fallen Idol" episode (10/14/95) of tv show California Dreams, a sort of sub-Saved by the Bell. He's Jake's (Jay Anthony Frake) idol, but ends up stealing a song from Jake's band, California Dreams. Played by Julian Stone. See also Bradley and the Billionaires, California Dreams, Total Defiance.

Walking Lemons - An unseen band mentioned in the "Jitterbug Break" (1/31/1985) episode of The Cosby Show. Denise Huxtable (Lisa Bonet) wants to camp out for tickets, a plan that is quickly negged by her father (Bill Cosby). The show concludes with a dance contest between breakdancing youngsters (including a very young, very uncredited Blair Underwood) and jitterbugging oldsters (including choreographers Judith Jamison and Donald McKayle). Thanks to Al for writing this one.

Wally Hung Experience, The - See The Wally Hung Trio

Wally Hung Trio, The - Backup band for bawdy Dusty Towne (Catherine O'Hara) on two SCTV sketches. First in a commercial for her appearance at Lucifer's Arena (10/23/81), and then on her own tv Christmas special: "Dusty Towne Sexy Holiday Special" (12/18/81). Lineup: Ricky on drums (Rick Moranis), Wally Hung on Organ (Paul Flaherty- Joe Flaherty's brother), and an unnammed bassman (Dick Blasucci). They also might appear in the Ocean's 11 parody skit, "Maudlin's 11," playing the Blue Angel Burlesque Strip Tease club. They also appeared as the The Wally Hung Experience on the 1982 RCA Count Floyd EP, which adds Gene Martynec as synth programmer, Mike Short on keyboards, Rick Gratton on drums, and Memo Acevedo on timbales. See also Vic Arpeggio, Big Momma, Happiness Unlimited, Tom Munroe, Russ Riley, Speed of Light.

Wanker, Reggie - None other than Malcolm McDowell played this decadent, self-indulgent, Mick Jagger-like rock star in the 1983 movie Get Crazy (aka Flip Out). McDowell does a surprisingly good job doing his own singing on "Hot Shot!" Later in the movie he has a heart-to-heart chat with his penis. (see also Auden, King Blues, Nada)

Wanker Triplets, The - Identical singing triplets from the "All In the Family" episode (05/0188) of Married with Children. Played by REAL identical singing triplets, The Del Rubio Triplets (Milly, Elena, & Eadie). Visiting relatives of wife Peggy Bundy (Katey Sagal), they sing "You Are My Sunshine," Al gives them bad advice, and then just sorta stand around in the background. See also Burned Beyond Recognition, Jimmy Dick and the Night Sticks, Joanie and the Slashettes, Oozing Meat, Otitis Media, Shoes 'n' Socks, Tears and Vomit, The Tuxedos, The Why, Yodeling Andy.

Warren Cheswick Experience, The - Amatuer band of, duh, Warren Cheswick (Justin Long) in the "The Whole Truth" episode (12/07/00) of NBC's Ed. They audition to play an open mike night at the Stuckeybowl, but Phil (Michael Ian Black), who's running the show and mad with power, will only let them play if they do his song ("Soothe My Soul, Stuckeybowl") and let him sing it. Thanks to Charles for this one.

Warthogs, The - From the TV show Throb (1986-88). Thanks to Robin Edgerton for this one.

Warts, The - From the "How Not To Manage A Rock & Roll Band" episode of Eve Ardens' weak '60's sitcom, The Mothers-In-Law. The Warts are a true rock and roll band that the awfully lame, non-cool cast want to turn into a bunch of squares. The best thing about this episode, of course, is that the Warts are played by the Seeds, who at least get to break into their '60's garage punk anthem, "Pushin' Too Hard." Thanks to Mike Dugo of www.lancerecords.com for finding this one and writing it up. See also The Friends Indeed and The Mamas and Papas-In-Law.

Washington, Howling Blind Luther - See King Blues.

Washington Monu-Gents, The - From the TV show Mr. Show ().

Watson Girls, The - From the movie Highway 61 (1991). Thanks to Brian! for this one.

Waverly, Denise - Sixties Brill building songwriter who wants to be a singer, and central character of the1996 movie Grace of my Heart. Real name Edna Buxton (played by Illeana Douglas), of the rich Philadelphia family that owns Buxton Steel. She enters the 1958 McMartin Singing Competition and wins with Rosemary Clooney's "Hey There." First prize is a recording contract with McMartin Records, but it never goes anywhere. She sings all over New York only to be told, "we've already got someone like you." A producer takes pity on her and gives her recording of her original song "In Another World" to manager Joel Millner (John Turturro), who wants it for his group The Stylettes. A hit, he gives her a job song writing. She spends the sixties writing hit singles for various artists, having unhappy love affairs, and sporting an endless parade of awful period hairdos. Finally, in 1970, Joel ousts her from the hippie Idyllwyld Commune to help her record her long-dreamed of solo album, titled Grace of My Heart, which goes platinum. Her life is loosely based on real Brill hitmaker Carole King. The movie's original period songs were various collaborations with Brill vets and younger writers. Denise's big ballad, "God Give Me Strength," was cowritten by Elvis Costello and Burt Bacharach, at director Allison Anders' instigation, and sparked further collaboration that led to their 1998 album Painted from Memory. Kristen Vigard was Illeana's singing voice. See also The Click Brothers, Little Tammy Lee, The Luminaries, Kelly Porter, The Riptides, The Stylettes.

Wayne - From the TV series Love Monkey (2006).

Wayne and Wanda - This pair of singing and dancing human muppets always had the worst luck during their nine or so appearances on the 1976-81 The Muppet Show. No sooner would they get a few bars into a piece of wholesome American music than something would usually fall on them.

Wayne, Billy - From the film Oh God, You Devil! (1984). Bobby Shelton (Ted Wass) is a struggling songwriter with a loving wife and a crappy agent. When reduced to singing at a wedding, he's approached by superagent "Harry Tophet," really Satan (George Burns), who tools around in the most evil car available at the time: the Dodge Durango! Satan gets him to sign a contract for rock superstardom. However, Satan's rock star gig is a little weird. He doesn't just magically make Shelton rich and famous. Shelton becomes rock star Billy Wayne (Robert Desiderio), even though Wayne has around already. And there was another guy who signed with Satan and became Wayne before Shelton, only his contract with Satan ran out. And when Shelton becomes Wayne, the other guy becomes Shelton! And the whole world thinks the other guy is Shelton, including the other guy himself (?!). Soon, Shelton becomes disenchanted being Wayne, especially when the other guy Shelton knocks up his real wife, who also thinks other guy Shelton is the real Shelton. Shelton gets unconvincingly worked up enough to suicide for no real apparent reason, but then God (George Burns again) and Satan play poker for his life/soul. And then there's the happy ending, and Shelton gets his life back, "Billy Wayne" is dead, and only God (and Satan) knows what happed to that other guy. Billy's band was played by: Kent DeMarche,Trey Thompson, Charles Button, Dave Morgan, John Wolff, and Jack Kelly. One of these guys is a dead ringer for Spinal Tap's Nigel Tufnel.

Wayne-Wayne, Jasmine - See McLoud, Michael and Jasmine Wayne-Wayne


| | |
| --- | --- |
| Way-Outs, The - Or maybe The Wayouts, I've seen it both ways. Animated English band masquerading as outer space aliens for a gimmick in "The Masquerade Party" (11/26/00) episode of The Flintstones. They masquerade a little too well, sparking a public panic. The voices of the band were played by John Stephenson, Allen Melvin and Don Messick. | |


We're Certainly Dwarfs - From Soul Music (novel by Terry Pratchett), 1995.

We Stink - From the TV cartoon Arthur: It's Only Rock and Roll (09/01/02). Thanks to Tom X. Chao and Karl Siewert for this one.

Webber, Sir Lloyd Wilson - From the TV show Mr. Show (11/22/96). Thanks to brock ellis for this one.

Weird Sisters, The - From the movie Harry Potter and the Goblet of Fire (2005). This was to be played by real band Franz Ferdinand, but it didn't happen. Now it's fronted by Pulp frontman Jarvis Cocker. The other band members are played by Phil Selway and Jonny Greenwood, both of the band Radiohead. The band is from the book, originally, where all the kids at Hogwarts are agog over them. Thanks to The Donaldson, Kris for this one.

Wellington, Clarissa - See Lisa Simpson.

Wells, Deandra - From the TV show Saturday Night Live (05/13/00 & 03/10/01).

Wells, Rusty - Elvis Presley is this singer in a combo in 1965's Girl Happy.

Wendy - From the animated TV show Futurama (05/06/01). Teen female singer whose entire career gets condensed into a single newscast, thanks to a massive disturbance in the space-time continuum, in the episode "Time Keeps on Slippin'." She wins three Grammies before being found dead in her bathtub.

West, K.C. - From the TV show Matlock (01/28/93).

West Minstrel Abbeys, The - From the TV show The Monkees (03/04/68). Thanks to Antaeus Feldspar, and David Herrick for this one.

Wetheads, The - Unseen and unheard band mentioned in passing in the "Love with a Proper Transfer Student" episode (4/14/02) of the cartoon As Told By Ginger. Joaquin Cortez (Mathew Valencia ), the new kid at Lucky Jr. High and the object of affection for best friends Ginger (Melissa Disney) and Dodie (Aspen Miller), says they're his favorite. Yeah, this entry's kinda lame, but I wanted to justify wasting 30 minutes on this show just because I saw a commercial for it in which someone asks "what's your favorite band?" Thanks to Alan for this one. See also Lucky Goat Middle Marching Band, and The Ponies

What - From the TV show Moesha (03/19/01). From the "Mayhem at the Jam" episode. A four member rap group, consisting of Moesha's brother Dorian and three friends who may or may not be series regulars. They open for gangsta rap group Mayhem, with disastrous consequences. See also CPQ, Mayhem (II). Thanks to Charles Rempel for this one.

Wharvey Gals, The - The four young daughters of Penny Wharvey (Holly Hunter) who sing ("In The Highways") briefly in the Coen Brothers movie O Brother Where Art Thou (2000). The Wharvey Gals were played by Georgia Rae Rainer, Marianna Breland, Lindsey Miller, and Natalie Shedd. Their singing was done was by real singing group The Peasall Sisters (Sarah, Hannah and Leah). (see also The Soggy Bottom Boys)

Wheeler, Tim - From the other source Gillette magazine ad (1973). This is weird. A fake folk singer from old Gillette advertisement I found in a 1973 issue of Esquire. Gillette saved his career!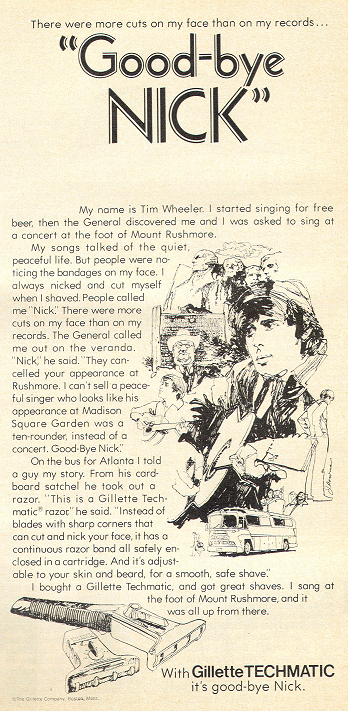 Wheezy the Penguin - From the animated movie Toy Story 2 (1999). Swingin', singin', squeakin' Antarctic bird toy who performs a lounge version of "You've Got a Friend in Me" at the end of the film. Pixar regular Joe Ranft provides Wheezy's speaking voice, while lounge-meister Robert Goulet provides his singing voice. Thanks to Alan Benson for this one.

Whips and Snaps - From the TV show Arrested Development (01/04/04). Barbershop quartet of leatherclad S&M aficionados from the "Storming the Castle" episode. Tobias Fünke becomes a member after accidentally stumbling into a leather bar. See also Dr. Fünke's 100% Natural Good Time Family Based Solution, Motherboy.

Whiskey Kitten - A garage band made up of former members of State of Contusion and teenager/alien-in-disguise Tommy Solomon (Joseph Gordon-Levitt) on Third Rock from the Sun. They play either speed or death metal (there's some confusion among the band members as to their exact genre, but all agree that it's not about labels man, it's about the music.) They only have one song, which is another bone of contention among band members. Trivia Time! When he shuts down the band mid-practice, Dick Solomon (John Lithgow) reprises part of his anti-rock sermon from Footloose.) Thanks to Alan for writing this one.

Whistling Cowboy Monkey Band, The - From Baby Blues (comic strip by Rick Kirkman & Jerry Scott), ca. 1997. Thanks to Richard Jeantheau for this one.

Whitcroft, "Jerkin'" James - From the TV show Mr. Show (). Thanks to Peter Ledebur for this one.

White, Bongo - From the TV show Perry Mason (09/30/61).

White, Connie - Rising country singing star played by Karen Black in 1975's Nashville. She has two enormous... talents, know what I mean? See also Haven Hamilton, Barbara Jean, Tommy Brown, Linnea Reese, Sueleen Gay, The Smokey Mountain Laurels and Tom, Bill & Mary.

White Scorpion - From the movie Rock'n With Satan (2002). Crap band from the crap movie Rock'n With Satan (2002). This no-budget wonder features two losers, Ricky Steele (??) and Billy Love (??), who steal some magic book that then gives them supernatural help with their metal band.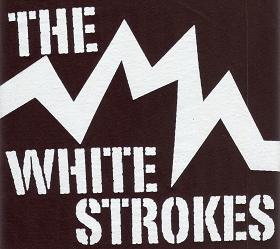 White Strokes, The - Fake band from... a t-shirt! The Y-Que Trading Post in Los Angeles has had these for several years. Now c'mon, admit it- wasn't it all too easy to get those two garage rock bands mixed up? This is also not the only fake band from a t-shirt; see Poor Richard

White Zombies, The - From Sonic Disruptors #2 (DC comic book mini-series written by Mike Baron, drawn by Barry Crain & John Nyberg), Jan. 1988.

Whoa! - From the MTV boy band spoof tv movie 2gether. Rival lip-syncing boy band of 2gether, they fire their manager, Bob Buss (Alan Blumenfeld), who then goes out and creates 2gether. Whoa! have a song on the soundtrack album, "Rub One Out." Thanks to TC Kirkham, Crazie Jamie, and Erik Wennstrom for this one. See also 2gether, Unity.

Whom, The - From Soul Music (novel by Terry Pratchett), 1995.

Why, The - From the two part "Married... with Queen (Part 1)" (04/23/89) & "Married... with Queen, The Sequel" (04/30/89) episodes of Married with Children. They play the Polk High School reunion, where Peg (Katey Sagal) renews her high school feud with Connie Bender (Lisa Raggio). Obvious play on the name of real band, The Who. See also Burned Beyond Recognition, Jimmy Dick and the Night Sticks, Joanie and the Slashettes, Oozing Meat, Shoes 'n' Socks, Tears and Vomit, The Tuxedos, The Wanker Triplets, The Why, Yodeling Andy.

Wigglers, The - From the movie Beach Ball (1965).

Wild, Curt - An American rocker (played by Ewan MacGregor) with some pretty far out stage antics (read: Iggy Pop) in the 1998 movie Velvet Goldmine. He is the lead singer for The Rats. The rest of the band was played by Alan Fordham on bass guitar, Jono McGrath on lead guitar and Perry Clayton on drums. (see also The Flaming Creatures, Brian Slade, The Venus In Furs)

Wild Hots, The - From the TV show Growing Pains (09/30/86).

Wildebeest, Theophilus P. - From the film Lenny Live and Unleashed (1989). African-American lounge/soul singer parody played by Brit comedian Lenny Henry on various shows 'n' stuff, including this concert movie of his stand-up. Thanks to Richard Bensam for this one.

Wildwind - From the animated movie Scooby-Doo and the Legend of the Vampire (2003). KISS-like band trying to bring back the 70s glam rock era. They disappeared after performing at last year's Vampire Rock Music Festival, at haunted Vampire Rock in Australia. They were supposedly band-napped by the legendary vampire creature, the Yowie Yahoo. Scooby and the gang figure it all out. See also The Bad Omens, The Hex Girls, Matt Marvelous, The Meddling Kids, Two Skinny Dudes. Thanks to Alan Benson for this one.

Wilkinson, Shelby - From the TV show Empty Nest (12/03/94).

Wilkes Booth John - From "Gianni" (short story by Robert Silverberg), 1982.

Williams, Danny - From the TV show Make Room for Daddy / The Danny Thomas Show (1953-1965).

Willis, Little Jimmy - From the TV show The Sopranos (03/14/99). Thanks to Rob Terrell for this one.

Willow - Female folk singer in the "Lowered Expectations-Folk Singer" sketch on the 02/10/96 episode of Mad TV. She sings about the type of man she's seeking, while sporting some, uh, au naturel underarms. Played by cast member Nicole Sullivan. See also Defcon One, Dr. Dazzle, The Erascists, Hoppy Potty, Darlene McBride, Savante, Michael McLoud and Jasmine Wayne-Wayne, Shaunda, Little Hassan Taylor.

Willy and the Poor Boys - From "Down on the Corner" (song by Creedence Clearwater Revival), 1969. Thanks to Wolfsong for this one.

Wilson, Danny - From the movie Meet Danny Wilson (1952).

Wilson, Michelle - From the movie Angels' Revenge AKA Angels' Brigade (1979). From a Charlie's Angels rip-off movie so bad it rightfully became an episode of Mystery Science Theater 3000. This disco diva is playing the Rainbow Room at the Sahara in Vegas. She gives a shout-out to audience member Arthur Godfrey (playing himself), who doesn't know why he's in this movie, either. When Wilson's drug addict brother gets beaten up by a pusher, Wilson is approached by a schoolteacher with a plan: use Wilson's star power to gather a group of commandos together to blow up the drug dealers' secret factory. Oh sure, that makes sense. Trivia Time! Wilson's manager Manny is played Alan Hale, Jr., the Skipper from Gilligan's Island. There's also a role by his fellow castaway Jim Backus as a white supremicist! Thanks to Kelly Woessner for this one.

Wilson, Stingray - From the TV show Roseanne (12/05/95). Thanks to Dan at NonsuchWorks for this one.

Windgren, Mike - From the movie Fun in Acapulco (1963). Mike (Elvis Presley), stranded in Acapulco without enough money to get home, is befriended by homeless orphan hustler Raoul, a pint-sized, precocious, prepubescent Colonel Parker with cousins everywhere. He takes it on himself to manage Mike's singing career. One incredibly unlikely meeting with the manager of the ritzy Hotel Acapulco Hilton later, and Raoul's got Mike a job occasionally filling in for house singer El Trovador. Soon Mike's singing career is going like gangbusters, thanks to Raoul's incessant hustling. Elvis shoulda fired the Colonel and hired this kid! But it turns out Mike's singing is just to earn enough money to go home and rejoin the family business in Florida: The Flying Windgrens, a trapeze artist act, so the rousing finale song "Guadalahara" is his undoubtedly his last performance. Which is good, because Mike will need the time to figure out how he's going to smuggle Raoul across the border since he promised to take him with him.

Winslow's Woppers - A doo-wop group featured in the "Dowopdiggety" episode of Nickelodeon's cartoon, CatDog. The band, which was formed by blue mouse/musical entrepreneur Winslow T. Oddfellow (voiced by Carlos Alazraqui), featured CatDog (Jim Cummings and Tom Kenny) and the Greasers -- Cliff (Kenny), Lube (Alazraqui), and Shriek Dubois (Maria Bamford). After a dispute about hats and dressing rooms, the band fell apart and were replaced by stagehands-cum-rappers Mervis & Dunglap (both voiced by John Kassir). Thanks to Alan for writing this one.

Winstead, Chase - From the movie The Giant Gila Monster (1959). This movie was also used as fodder for an episode of Mystery Science Theater 3000 (06/13/92).

Winters, Barbara - From the movie Summer Holiday (1963).

Winters, Barbara - From the movie Summer Holiday (1963). Famous, short-haired, female American pop singer in Paris who disguises herself as a fourteen year old boy named Bobby and stows away on a passing double decker bus to get away from her horrible, horrible show biz mother, Mrs. Stella Winters (played to the hilt by Madge Ryan). It's an indication of how awful a mother she really is that her daughter would rather take her chances with a busful of strangers in a foreign city. Fortunately, it's the early 60s, the movie is a musical, a G-rated Cliff Richards vehicle, and his vehicle is a doubledecker bus stuffed with lovable, vacationing English lads and lasses. Her cover is eventually blown and bus driver Don (Cliff Richard), a confirmed bachelor who doesn't want a woman to "own" him, falls in love with her for no apparent reason, unless it was the 14 year-old boy getup. She rejects his advances originally until the plot apparently puts a gun to her head between scenes and she swoons for him. Meanwhile, her mother conspires with manager Jerry (Lionel Murton) to milk the publicity of the missing singer and play the role of the worried mother. Somehow this involves boneheaded attempts at getting the whole busload arrested on one flimsy pretext or another at her instigation. So the bus hits one plothole after another, always squeaking out of legal jams. Finally it all comes to a head in Athens, where Mommy dearest has them all busted for kidnapping, and quavers her voice righeously at a big press conference. Don and Barbara, mysteriously locked in four star hotel rooms instead of cells, escape and interrupt Stella with the news they're getting married! Obviously, poor Barbara is a victim of Stockholm syndrome. Trivia Time! Cliff Richards is the G-rated Elvis of England, you ignorant yank, with more hits than you've had hot dinners. Unfortunately, his movies aren't any better than Elvis'.

Winters, Paul - From the TV show The Wonderful World of Disney (03/20/80).

Wipe Outs, The - From the TV cartoon Flintstones, The (11/03/65).

Wishbones, The - From The Wishbones (novel by Tom Perrotta), 1999.

Witherspoon, Blind Willie - From the TV cartoon The Simpsons (04/30/95).

Wizzleteats, Stinky - The Burl Ives-resembling vocalist (voiced by Bob Camp) who sings the insane li'l ditty "Happy Happy Joy Joy" in the 1991 Ren and Stimpy cartoon "Stimpy's Invention." He also shows up on their 1993 Crock O' Christmas CD.

Wolfgang Bang and the Krauthammers - From Sonic Disruptors #4 (DC comic book mini-series written by Mike Baron, drawn by Barry Crain & John Nyberg), Mar. 1988.

Wood, Georgie - From Spoken bit by John Lennon after "Dig It" from The Beatles' Let It Be album, 1970.

Wombles, The - From the TV show Wombles, The (1972). Thanks to Simon Beck for this one.

Wonders, The - Mid 60's pop band from the 1996 Tom Hanks produced movie That Thing You Do. They were originally The One-ders. In one scene the band is in a movie playing the fake band (whoa! double fake band!) Cap'n Geech & The Shrimp Shack Shooters. The movie and soundtrack also featured other fictitious artists: The Norm Wooster Singers (whitebread Ray Coniff-type pablum), The Saturn 5 (Ventures-type instrumentalists),The Chantrellines (all female/black group), Del Paxton, Freddy Fredrickson, The Heardsmen, and vocalist Diane Dane.

Worthy, Billy - From the TV show A Year at the Top (1977). Thanks to Raymond Tucker for this one.

Wretched, The - From the TV show The Cosby Show (04/05/90). Thanks to Lelucina and Alan for this one.

Wyckyd Sceptre - From a skit on the "Show Me Your Weenis" episode of HBO's defunct Mr. Show. This gay metal band is in serious, serious denial. They think their casual gay sex with each other is just part and parcel of their hard-partyin' rock 'n' roll lifestyle, until they get set, um, straight. Bob Odenkirk, David Cross and John Ennis played some of the band members. Thanks to Mary K. Guthrie and delirium for this one.

Wyld Stallyns - Cheesy metal garage band of the main characters from the 1989's Bill and Ted's Excellent Adventure and the 1991 sequel, Bill and Ted's Bogus Journey. Keanu Reeves played Ted "Theodore" Logan and Alex Winter played Bill S. Preston, and they both played guitar. The second movie is more band-centric as Bill and Ted must triumph over space, time, and Death Himself to win the San Dimas Battle of the Bands. The band's music and lyrics lead all humanity to live together in peace and prosperity in the future. At least according to George Carlin.


A
B
C
D
E
F
G
H
I
J
K
L
M
N
O
P
Q
R
S
T
U
V
W
X
Y
Z

NEW

Links
Main
Got an addition, suggestion or correction?