A
B
C
D
E
F
G
H
I
J
K
L
M
N
O
P
Q
R
S
T
U
V
W
X
Y
Z

NEW

Links
Main



NUMBERS & ETC.



& Cheese - From Kraft Macaroni & Cheese TV commercial, 2001. Thanks to Alan Benson for this one.

&U - From Soul Music (novel by Terry Pratchett), 1995.

*N The Synk - From Ozy And Mille (Internet comic strip by David Craig Simpson), 11/25/02.

1 Plus 2 + 1/2 - From the movie Spinout (1966).

1471 - From the UK tv show The Adam and Joe Show (1996-2001). Thanks to Adam Kimmel for this one.

1900, Danny Boodmann T.D. Lemon - From the movie La Leggenda del pianista sull'oceano, aka Legend of 1900 (1998). Thanks to Rob Terrell for this one.

2Fine - From the TV show Just Shoot Me (10/22/02). Thanks to Rhys for this one.


2ge+her - A spoof of those damned MTV "boy bands" - on MTV! They were in a made for tv movie, and then turned into a series. Jerry O'Keefe (Evan Farmer), Mickey Parke (Alex Solowitz), Jason "QT" McKnight (Michael Cuccione), Chad Linus (Noah Bastian), and Doug Linus (Kevin Farley) -- all live in a house paid for by their record label. They have two albums out. Tragically, Michael Cuccione died just after his 16th birthday of respiratory failure (01/13/00). Kevin Farley is the younger brother of deceased Saturday Night Live Alumnus Chris Farley. See also Whoa!, Unity.

4 For U - From Mastercard TV commercial, ca. 1998-2000. Thanks to Howard Thompson for this one.

4 Skore - From the TV cartoon King of the Hill (11/03/02). Thanks to Alan Benson for this one.

5 Sins - From the movie 5 Sins (1998). Porn parody of The Spice Girls and their movie Spice World. Lineup: Sporty Sin (Chloe), Scary Sin (Dee), Baby Sin (Toni James), Ginger Sin (Ruby), and Posh Sin (Stephanie Swift). Thanks to SPIDER! That's Right SPIDER! for this one.

6X - From the book 6X: The Uncensored Confessions (2005-2006). Hot teen quartet full of drama in this book and also a 2006 sequel (and probably more to come): Loud, Fast, & Out Of Control. Lineup: Stella Saunders ("The Bitch") on bass, A/B Farrelberg ("The Boy") on guitar, Kendall Taylor ("The Voice") on vocals, and Wynn Morgan ("The Body") on drums. Official/author site here.

7 Degrees Celsius - From the TV show Saturday Night Live (01/15/00 & 03/11/00 ). Thanks to Corinne Mullowney for this one.


A



A Men, The - From the TV cartoon King of the Hill (11/09/03).

Ace Tones, The - From the movie Local Hero (1983). Thanks to Russ Williams for this one.

Adam Boys - From the animated film Vip, mio fratello superuomo (1968). Foursome (drums, standup bass, guitar, sax) dressed only in grass skirts who play a cruise ship in this comic Italian animated film known as The Super-Vips in English.

Adrien Van Voorhees Seven, The - From the TV show Primetime Glick (2001). House band for Jiminy Glick's (Martin Short) Comedy Central talk show parody. Adrien Van Voorhees (Michael McKean) is the harpist and band leader. According to the online fake bio, this Dutch jazz/classically trained musician was previously in the cruise ship lounge act Bunny Van and the Sea Gypsies. Rest of the lineup: Ronette (Jackie Stevens), Zoltan (David Lee McLain), Janos, Staniloy, Harold, and Bela. Thanks to Peter Anthony Holder for this one.

Afrodisiacs, The - In the "The Music Man" episode (04/06/82) of biracial sitcom Diff'rent Strokes (1978-1986), older brother Willis Drummond (Todd Bridges) has this funkish/R & B-ish band. He is auditioning singers, which pits his black girlfriend Charlene (Janet Jackson!) vs. his white stepsister Kimberly Drummond (Dana Plato). The solution? They both sing, in a horrible duet covering Paul McCartney & Stevie Wonder's "Ebony and Ivory." I knew there was a curse on that show! Thanks to Ray Greenwell and Joe Lavender for this one.

Agar - From the tv show Saturday Night Live (03/09/02). Thanks to Galen for this one.

Aguilera, Daphne - From the TV show The Andy Dick Show (2001-2005). Andy Dick donned drag on his MTV sketch show to play this recurring character, a low-rent fictional cousin of real singer Christina Aguilera. Thanks to gundamwayne for this one.

Akino, Yoko - From the TV show Saturday Night Live (01/13/01).

Alabama Porch Monkeys, The - From director Spike Lee's racially charged mess of a movie, Bamboozled (2000). Of course, that's redundant- all of Spike Lee's movies are racially charged. This is the deliberately offensively named house band of the controversial hit Continental Network System TV show, Mantan: The New Millennium Minstrel Show. They're costumed in old style striped prison uniforms with ball and chain. And yes, the set they play on is a porch in Alabama. Played by real hip-hop band, The Roots: Ahmir "?uestlove" Thompson, James "Kamal" Gray, Tariq Trotter, Leonard "Hub" Hubbard, and Kyle "Scratch" Jones. See also The Mau Maus.

Alan Twitty Project, The - From the tv show Even Stevens (11/24/00). See also Louis Stevens Experience, The.

Alcatraaaz - From the animated TV show The Simpsons (02/13/05). In the "Pranksta Rap" episode, after being forbidden to go, Bart sneaks out of the house to go see the Murder 4 Life rap concert featuring this rapper with all gold teeth. Bart even gets onstage and raps a bit. But when he gets back home, he finds that his folks have discovered his absence, so he fakes his own kidnapping. Real rapper 50 Cent has a cameo as himself, but doesn't play the concert. Other rappers at the concert who are just glimpsed in the tv commercial for it are: Da Glock Pointers, Romeo Smooth, Queen Booty Shaker, and MC Champagne Millionaire.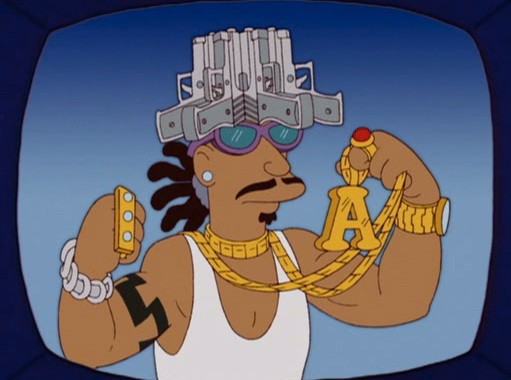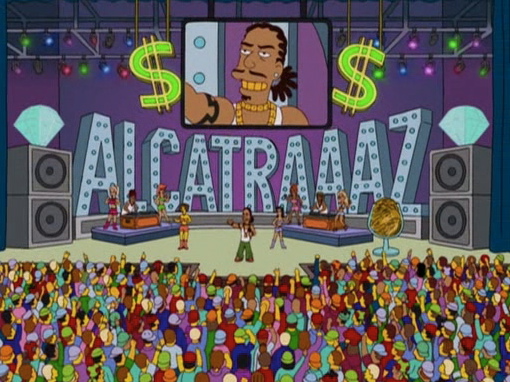 Alexander's Ragtime Band - From the movie Alexander's Ragtime Band (1938). The fictional band of Irving Berlin's 1911 hit, "Alexander's Ragtime Band" is turned into a very fictionalized version of Berlin's life. Society boy Roger Grant (Tyrone Power) ditches the highbrow crowd to play lowbrow ragtime in 1915 San Francisco. He takes the name of the song as the name for his band, and becomes Alexander, too. He adds singer Stella Kirby (Alice Faye), who gets replaced by Gerry Allen (Ethel Merman!). Band member Charlie Dwyer (dapper Don Ameche) is the third member of the love triangle between him and Stella and Alexander. The movie follows them through WWI and after, with a plethora of Berlin tunes at every moment.

Ali G - From the tv show Da Ali G Show (2000).

Alice Bowie - Dope-oriented comedians Cheech and Chong throw together this band in their 1978 vehicle Up In Smoke. They appear in a battle of the bands against real L.A. punkers The Dils, The Whores, and The Berlin Brats at real L.A. punk club The Roxy. In reality, C & C recorded the song "Earache My Eye" by "Alice Bowie" four years earlier for their Cheech and Chong's Wedding Album, where it hit #9 on the US charts.

Alida - From Alida (2003). One of those MYST-type games: "Explore the imaginative world of a gigantic guitar." This rock quartet got so rich so fast, they built a giant guitar-shaped theme park on an island. Then it all fell apart, and the park never opened. Now Arin, one of the band members (other members include Kivas and Juno) has gone missing on the island.

Alien Autopsy - From the movie Ghost World (2001). A guy (Brett Gilbert) handing out flyers for an alternative rock show says he's in this band, after handing main character Enid (Thora Birch) a flyer. See also Blueshammer, Fred Chatman, Vanilla, Jade and Ebony.

All Day Suckers, The - From the TV show The Mothers-In-Law (04/28/68). Popular rock group mentioned by son to his dad as proof that rock groups are a sound investment: They made $100,000 their first year and sold three million records last year (er, 1967). From the "How Not to Manage a Rock Group" episode (04/28/68) of forgotten series The Mothers-In-Law. See also The Friends Indeed, The Mamas and Papas-In-Law, The Warts.

All Grouch Band - From the tv show Sesame Street (May 2001).

Alligator Shoes - From the tv show Home Movies (10/27/02). Thanks to Alan for this one. See also Brendan Poppins and the Chimminy Sweeps

Alphie and Bibi - Sweet, innocent folkie duo who I would say had all-American good looks, if they weren't from Moosejaw, Canada. They play the WorldVision Song Festival in the craptacular spectacle that is the 1980 movie The Apple. Set in 1994, Bibi Phillips (Catherine Mary Stewart) is quickly corrupted by evil rock svengali Mr. Boogalow (Vladek Sheybal) and turned into a glam rock bitch queen. But suspicious Alphie (George Gilmore) refuses to sell out and sign up, and so hits skid row, getting beat up and fucked over by Boogalow's minions. Thanks to Sam Haozous for this one. See also Dandi and Pandi.

Amazing Centrifugal Blortcrooners of Alpha 10, The - From The Worst Band in the Universe (children's book w/CD) by Graeme Base), 1999. Thanks to Orinoco Womble for this one.

Amazing Joy Buzzards, The - From the comic book The Amazing Joy Buzzards (2005). Lineup: Biff Ashby on vocals and guitar, Gabe Carlyle on drums, Stevo Varg on bass. They have adventures 'n' stuff. Comic book written by Mark Andrew Smith, drawn by Dan Hipp. Intervierw with Smith here.



Amazing Marvin Suggs and his Muppaphone, The - From the Rita Moreno-hosted episode (10/09/76) of The Muppet Show. Voiced by Frank Oz with an Italian accent, this artiste "plays" "Lady of Spain" by hitting the tribble-shaped muppets (some named Lucy, Bernard, Marvin) with mallets as they go "ow" in key (noises of pain by Jim Henson & Jerry Nelson). Payback's a bitch, though, as a giant hammer slugs Suggs at the finale. You can find the song on The Muppet Show Album (1977) & CD Muppet Hits (1993). Try your hand at the virtual Muppaphone here. The Muppahone gag is awfully similar to Arthur Ewing and his Musical Mice, from Monty Python's Flying Circus. Marvin Suggs also shows up again in the Steve Martin-hosted episode (10/31/77) with a new act as Marvin Suggs and his All-Food Glee Club, which sings "Yes, We Have No Bananas."

Amazing Maurice, The - From The Amazing Maurice and his Educated Rodents (book by Terry Pratchett), 2001.

American Medical Association, The - From The Illuminatus Trilogy (novel by Robert Shea and Robert Anton Wilson), 1984. Thanks to Dave Lartigue for this one.

Anarchy Six, The - From the movie Desperate Teenage Lovedolls (1984). Thanks to Blossom for this one. See also Lovedolls, The.

And And And - From 1991's The Commitments. Crappy New Wave wedding band trio featuring Ray (Philip Bredin) and future Commitments members Derek Scully (Kenneth McCluskey) and Outspan Foster (Glen Hansard). The threesome was considering a name change (Ray wanted to put an exclamation point after the second "and" because "it'd look deadly on the posters"), when Derek and Outspan ran into Jimmy Rabbitte (Robert Arkins) at a wedding. He convinced them to ditch Ray and form the nucleus of The Commitments. Thanks to Al for writing this one. See also The Commitments

Ande Supporting Bands - From Soul Music (novel by Terry Pratchett), 1995.

Anderson, Althea - From the movie Up 'n Coming (1983). Over-the-hill country singer played by Lisa DeLeeuw. Thanks to Ken Toops for this one.

Anderson, Shaywan "Cheeno" - From Who Killed Tiffany Jones? (novel by "Mavis Kaye" [pseudonym]), 2003.

Anderson, Vicki - From the movie The Marrying Man (1991). Thanks to Galen for this one.

Andromeda - Future rock band from the "Space Rockers" episode (2/21/1980) of Buck Rogers in the 25th Century. Their evil manager, Lars Mangros (Jerry Orbach), tries to put a mind control signal in their music during a concert broadcast from Musicworld to cause youth to riot everywhere. One may safely assume Buck saves the day. I think the band was: Karana (Nancy Frangione), Joanna (Judy Landers), and Cirus (Leonard Lightfoot). Thanks to Rob for digging this one up.

Angels and a Devil - From the tv show The Muppet Show (05/22/80). See also Bun-Bun Brothers, The.

Angst, Agnus - Comedienne Lily Tomlin's one-woman show, The Search for Signs of Intelligent Life in the Universe, (co-written with Jane Wagner) first opened on Broadway in 1985, a showcase for her many and varied characters, including this 15-year old punk rock harridan, screeching at an unfair world that just stole her parakeet. Her parents change the locks on her, she clashes with her grandparents, and she rants onstage at the Unclub, riffing on a line she read in G. Gordon Liddy's book, Will. The show was turned in to a book in 1986 and finally into a film in 1991, and Ms. Tomlin continues to milk it live.

Anipals, The - From the tv show TV Funhouse (2000-2001). Thanks to Charles and Owmyleg for this one.

Ann-Margrock - The cartoon version of the vivacious and pneumatic Ann-Margret from the "Ann-Margrock Presents" episode (9/19/63) of The Flintstones. The cartoon version is a singer, instead of an actress/singer. Ann-Margret, naturally, was the voice of Ann Margrock.

Anne, Elizabeth - From the movie That Thing You Do (1996).

Anthem - See Spinal Tap

AntiMatter - From the "Amazon Hot Wax" episode (02/16/79) of tv show Wonder Woman. A pop rock band on the Phoenix Records label, where they help Diana Prince (Lynda Carter) decipher clues hidden in songs and an album cover (a la The Beatles) that find missing, presumed dead Phoenix folkie Billy Dero. Lineup: Jerry (Danil Torppe), Anton (real rocker Rick Springfield), and Kim (Michael Botts). Rick Springfield also played fake rocker James Roberts in Hard to Hold. See also Jeff and Barbi Gordon, Lane Kinkaid, Kathy Meadows, Hamlin Rule.

Anything People, The - From the TV series Sesame Street (1969-?). Miscellaneous Muppets who sing on the show, and show up on various albums.

Ape Sex - From Love & Rockets (comic book series by Jaime & Gilbert Hernandez), 1985-1999. Thanks to Bill Sherman for this one.

Apple, Sharon - From the tv show Macross Plus (1994). See also Fire Bomber.

Archies, The - One of the first, and one that most blurred the line between real and fake after the Monkees. Well, except for them being animated, I guess. Cough. The Monkees/Archies connection? Don Kirshner! The man who masterminded the Monkees only to have control wrested from him by the group, realized animated characters can't talk back. Archibald "Archie" Andrews is the band's leader and plays guitar and sings. "Jughead" Jones plays drums, Reginald "Reggie" Mantle plays guitar, Veronica Lodge and Elizabeth "Betty" Cooper play keyboards and tambourine. Here's some Archie-related evidence for the complete and utter decline of Western Civilization. The lead vocals of the band were really done by Ron Dante.

Arcola, Charles "Chachi" - The 1982-1983 Happy Days spinoff Joanie Loves Chachi bombed bad. But the real bombshell is that his band, around whose struggles the show was based, HAD NO NAME! It never came up! Careful consultation with my fellow sitcomologist, Jon C. Pennington; Todd Fuller, creator of the Joanie Loves Chachi website; and Robert Pierce, who played Bingo the drummer, all confirm this. Direct quote from Robert Pierce: "I don't have a clue what we called ourselves!" It's probably a sly homage to its parent sitcom, in which the band Richie, Ralph and Potsie were in never got a name either. Darn irritating, isn't it? Well, it is to me. The lineup: Erin Moran played Joanie Cunningham. Scott Baio played Charles "Chachi" Arcola. Derrel Maury played Chachi's cousin Mario, and Winifred Freedman played Annette, another cousin of Chachis'. Scott Baio released an album, The Boys Are Out Tonight, on RCA in 1983.

Arden, Angela - From the movie Die Mommie Die! (2003). A failed pop singer who wants to off her hated Hollywood producer hubby Sol Sussman (Philip Baker Hall) to be with her new lover Tony (Jason Priestly!). The gag/gimmick of this camp indie film is the singer is played by Charles Busch in DRAG.

Ariel - A gloomy singer attempting a comeback portrayed by Tracy Ullman in a skit on the June 21, 1987 episode of the Tracy Ullman Show (1987-1990). Her big hit was titled "Slit My Wrists." Unfortunately, after her comeback, she falls in love with a nice guy (played by Sam McMurray) and only writes and sings upbeat songs that totally alienate her from her depressed fanbase.

Armada - They were a crappy garage band trio with delusions of adequacy in several skits of the genius Canadian import comedy, The Kids in the Hall. Usually the drummer and bassist would gang up on the leader and browbeat him into things like renaming the band Rod Torfulson's Armada featuring Herman Menderchuck or adding backup singers and renaming the band Rod Torfulson's Armada Featuring Herman Menderchuk and the Dudettes. I They had the songs "Camera Man," and "She Watches," but "Trampoline Girl" was their, um, "hit." In the final KITH episode, (where they've renamed themselves The New Rod Torfulson's Armada featuring Herman Menderchuck) Chris Robinson of The Black Crowes plays a Rock 'n' Roll angel shows them their future, still practicing in the same damn garage when they're all wheezing seniors. Lineup: Rod Torfulson on drums (Bruce McCulloch), Herman Menderchuck on bass (Mark McKinney), and an unnamed Kevin McDonald on guitar and vocals. (see also Mississippi Gary, Tammy)

Arnold and the Arnoldettes - From the tv show Happy Days (01/27/76). Thanks to David Herrick for this one.

Arpeggio, Vic - Sax playing private investigator, who appeared in two extended skits- b & w film noir-ish detective movie parodies- on SCTV. In "Vic Arpeggio Private Investigator" (02/11/83 but set in 1960), Vic explains how he got fired from real Pittsburgh band The Joe Negri Trio when someone planted reefer in his locker, which is especially bad when you consider that Joe Negri was a regular on Mister Roger's Neighborhood. In "Vic Arpeggio Private Investigator: Black Like Vic" (03/13/84), Vic goes undercover in blackface as a butler in the Deep South. Joe Flaherty was Vic Hedges as Vic Arpeggio. See also Big Momma, Happiness Unlimited, Tom Munroe, Russ Riley, Speed of Light, The Wally Hung Trio.

Arthur Ewing and his Musical Mice - From the "Sex and Violence" episode (10/05/69) of now legendary BBC sketch show Monty Python's Flying Circus. This madman has trained mice to squeak at selected musical pitches, so that they can squeak tunes when "played" in the proper order. Unfortunately for the mice, "playing" means "hitting with large wooden mallets." He's allegedly playing "The Bells of St. Mary's," but it sounds uncannily like someone killing mice with a mallet. He is roundly castigated by the horrified audience and hauled off by the floor manager. Played by Terry Jones. This gag was later stolen by the Muppets for The Amazing Marvin Suggs and his Muppaphone. See also Arthur "Two Sheds" Jackson, Bolton Choral Society, The Herman Rodriguez Four, The Hunlets, Jackie Charlton and the Tonettes, Rachel Toovey Bicycle Choir, Inspector Jean-Paul Zatapathique.

Arthur Hodgeson and the Kneecaps - One of the other musical groups managed by The Rutles' manager Leggy Mountbatten in the sixties, according to the 1978 documentary, All You Need is Cash. See also The Rutles, Punk Floyd, Les Garçons de la Plage, The Machismo Brothers, Blind Lemon Pye, Ruttling Orange Peel.

Atomic Enchilada, The - From The Turtles Present The Battle of the Bands (concept album by The Turtles), 1968. Thanks to John R. Zillmer for this one.

Auden - Former Velvet Underground member Lou Reed (!?) played this ultra reclusive rock star who hasn't left his house in years, in the 1983 comedy Get Crazy. He finally leaves to play the big new year's concert but arrives too late. Once there, he sings anyway ("Little Sister"). (see also King Blues, Nada, and Reggie Wanker)

Autobahn - From the Coen brothers movie, The Big Lebowski. The three German nihilists (played by Peter Stormare, Red Hot Chili Peppers bassist Flea, & Torsten Voges) were said to have been in this techno-pop band, an obvious Kraftwerk rip-off. They had one album in the late 70's, called nagelbett, which is German for "bed of nails."

Avenue Ghetto Street Boys, The - From the "Something You Can Do With Your Finger" episode (07/12/00) of animated Comedy Central show South Park. This is the boy band that superceded The Ghetto Avenue Boys. After all, The Ghetto Avenue Boys were getting long in the tooth. One of them was already 19, for crying out loud! See also Fingerbang, The Ghetto Avenue Boys, Jerome "Chef" McElroy, Timmy! and the Lords of the Underworld.

Average Joe Band, The - From the animated tv show G.I. Joe (12/02/85). Thanks to brian tivol for this one. See also Cold Slither.

Avery, Shug - From the movie The Color Purple (1985).

Avulsions, The - From Frazz (comic strip by Jef Mallett), Apr. 26, 2002.


A
B
C
D
E
F
G
H
I
J
K
L
M
N
O
P
Q
R
S
T
U
V
W
X
Y
Z

NEW

Links
Main