A
B
C
D
E
F
G
H
I
J
K
L
M
N
O
P
Q
R
S
T
U
V
W
X
Y
Z

NEW

Links
Main



R



Rabbit Habit, The - From the movie Angel, Angel, Down We Go, aka Cult Of The Damned (1969/1970).

Rabbit, Jessica - Animated human female with a Veronica Lake hairdo and physics-defying anatomy in Disney's (well, Touchstone/Amblin) 1988 Who Framed Roger Rabbit. Wife of Maroon Cartoons star Roger Rabbit (I wonder what her maiden name was?), she was voiced by an uncredited Kathleen Turner. She sang "Why Don't You Do Right?" backed by a band of nameless cartoon crows at The Ink and Paint Club, a disreputable "strictly humans only" joint with a "toon revue." She sings as sexy as she looks, too. Jessica's singing voice was actually Amy Irving, executive producer Steven Spielberg's then wife. Jessica also popped up in minor roles in the three subsequent animated Roger Rabbit shorts that fronted the theatrical release of various Disney movies: 1989's Tummy Trouble (Honey, I Shrunk the Kids), 1990's Roller Coaster Rabbit (Dick Tracy), and 1993 Trail Mix-Up (A Far Off Place).

Rabid Weasel ? - From the animated TV show Fatherhood (2004). Thanks to Alan Benson for this one.

Rabinovitch, Yussel - In the 1980 remake of The Jazz Singer, Yussel Rabinovitch (Neil Diamond) defies his cantor father (Laurence Olivier) to become, well not a jazz singer, but a pop singer. There's a great scene where he plays his slow tender ballad "Love on the Rocks" to a Billy Idol-like rocker, who then turns it into a sneering punk rock song. Somebody find out that character's name! (see also Jack Robin and Jerry Golding)

Rachel Toovey Bicycle Choir - From episode #11 (12/28/69) of now legendary BBC sketch show Monty Python's Flying Circus. They appear briefly on the tv show parody skit "Interesting People." Just six guys in rain slickers singing "Men of Harlech" and ringing their bicycle bells. Not your usual bell choir. See also Arthur "Two Sheds" Jackson, Arthur Ewing and his Musical Mice,Bolton Choral Society, The Herman Rodriguez Four, The Hunlets, Jackie Charlton and the Tonettes, Inspector Jean-Paul Zatapathique.

Rad Boys, The - From SBC TV commercial, 2003. Thanks to Jason Torchinsky for this one.

Radolini, Bruno - In the hour long 1988 HBO special The Return of Bruno, Bruce Willis rips off Spinal Tap in this fluffy mockumentary, that hmmm, coincided with the release of Bruce Willis' actual (crappy) album of the same name- coincidence? Bruno careens recklessly from style to style, but is never popular because he's always a few years ahead of his time. Bruce does Spinal Tap one better and less funnier by cramming in cameos of big names in rock. It's a shame only the crappier songs from the TV special are on the album as some of the period songs are much more entertaining than Willis' original lame-ass pop. But then so is a high colonic.

Ragemobile, The - From Sonic Disruptors #3 (DC comic book mini-series written by Mike Baron, drawn by Barry Crain & John Nyberg), Feb. 1988.

Raging Pussies - Band that unknowingly precipitates a crisis in the cartoon town of South Park, CO in "The Wacky Molestation Adventure" episode (12/13/00). Cartman has four tickets to their concert, but Kyle's mom and dad won't let him go. After begging, they say he can go if "...you clean out the garage, shovel the driveway and bring democracy to Cuba." Undaunted, Kyle writes a letter to Castro SO heartwarming, Castro actually DOES bring democracy to Cuba. But his parents still won't let him go. Furious, he takes Cartman's suggestion to tell the cops his parents "molestered" him, so the cops will take them away. It works like a charm and Kyle and Co. have a parentless blast at the concert, in their underwear, even. Then every kid in town uses the molestering routine and soon the town is a creepy, Children-of-the-Corn/Lord-of-the-Flies, adultless wreck. See also The Avenue Ghetto Street Boys, Fingerbang, The Ghetto Avenue Boys, Jerome "Chef" McElroy, Timmy! and the Lords of the Underworld

Rainbow, Johnny - See Lisa Simpson.

Ramblers, The - A Peter, Paul, and Mary type 60s folk quartet in a greatest hits commercial on SCTV (1976-1981). They are lauded for their politcal stance and activism while all they do is play twee nonsense songs like "Ricky Tippy Tin," "Bottle of Wine," and a parody of Puff the Magic Dragon, "Cliff the Magic Squirrel." Eugene Levy on banjo, Andrea Martin as the female singer, Martin Short on stand up bass, and Joe Flaherty on acoustic guitar. (See also The Queenhaters, Jackie Rogers Jr., Jackie Rogers Sr.)

Ranchbone - This black country/western band was actually the real black ska-funk-punk band Fishbone. From the 1988 comedy Tapeheads. (see also Cube Squared, The Swanky Modes and The Blender Children)

Randy Watson and Sexual Chocolate - Eddie Murphy played the disturbingly fey Randy Watson and several other characters in the 1988 film Coming to America. The band was a sort of 70's soul-type band. They did a version of the Whitney Houston hit, "The Greatest Love Of All."

Rapid Fire - Evil high school rock band in the 1978 made-for-tv movie Cotton Candy, an early, no-so-good directorial work of Ron Howard. They cover Bob Marley's "I Shot the Sherif." Very badly. Thanks to Chris Boznos for this one. (see also Cotton Candy)

Rappin' Rabbis, The - From the TV cartoon The Simpsons (03/05/95).

Rasta Billy Skank - Dave Lister's (Craig Charles) fave but never-seen artist in the U.K. sci-fi series Red Dwarf. Lister's fave song is "Don't Fear The Reefer, Man." Are puns supposed to be this painful? Thanks to Aaron Bell for this one. See also Smeg and the Heads.

Rat, Happy Miss - From Happy Miss Rat (children's book by Peter Firmin), 1989.

Rave Breakers - See Spinal Tap.

Raven, Vincent - From the movie Leviatán, aka Monster Dog (1986).

Raw-D - From the movie Keepin' It Real (2001). Raw-D - Rapper played by rapper Kurupt in a cheapie rapsploitation comedy involving stolen master tapes and the label owner's (naturally) hot daughter.

Ray, Emmett - Dissolute, roue jazz virtuoso guitarist of the 20's and 30's from Woody Allen's faux documentary Sweet and Lowdown. Played by Sean Penn.

Raymond, Russ - From the movie In The Navy (1941). This popular singer (Dick Powell) disappears to patriotically join the Navy under an assumed name. A reporter is on his tail in this Abbott and Costello movie. This movie has one of my favorite Abbott and Costello bits, where Costello proves three different ways that 28 divided by 7 is 13. Thanks to Charles Rempel for this one.

Raytones, The - From the TV show The Twilight Zone (05/22/64). See also Floyd Burney.

Razor and the Scummettes - From Maniac Mansion (PC computer game) from LucasFilm, 1988.

Razor Cat - From the animated TV show The Gary and Mike show (//01). Possibly Razorcat. An uptight dweeb and good-time charley companion hit the road for adventure and get it in spades, sometimes unpleasantly so. Claymation that's in your face; this edgy, wacky show was shortlived. Dweezil Zappa wrote the band's song "Party in my Pants."

R.E.M. - From the TV show Full House (11/2/93). No, not THAT R.E.M.

Reach for the Skyler - Extremely short lived solo project of Skyler Moles after leaving Timmy! and the Lords of the Underworld. So short, they may not have even played one show before Skyler re-joins his old band. Then again, they might have opened for Phil Collins. From the "Timmy! 2000" episode (04/19/00) of animated show South Park. See also Timmy! and the Lords of the Underworld

ReachArounds, The - See Christers, The

Recess Monkeys, The - On the Apr. 23, 1982 episode of sketch comedy show SCTV, Pre Teen World is having a telethon where this band performs a cover of Canadian band Chilliwack's "My Girl (Gone, Gone, Gone)," [a #22 hit in the U.S. in 1981]. Lineup: Stephan Seely (John Candy) on drums and backing vocals; Paul Rey (Eugene Levy) on guitar, backing vocals, and tambourine; Steve Applebaum (Rick Moranis) on guitar and vocals. Thanks to Pete Coogan and Andy Kimmel for this one. (See also 5 Neat Guys, The Happy Wanderers, Lola Heatherton, Lorna Minelli, The Queenhaters, The Ramblers, Jackie Rogers Jr., Jackie Rogers Sr.)

Red Breem and his Band of Some Esteem - From the TV cartoon The Simpsons (04/12/94). Thanks to Alan Benson for this one.

Red Jack - From the book Little Heroes (198?). Artificial, computer-generated pop star in this sci-fi novel by Norman Spinrad.

Red Guard, The - From Sonic Disruptors #2 (DC comic book mini-series written by Mike Baron, drawn by Barry Crain & John Nyberg), Jan. 1988.

Red People's Army Mixed Chorale, The - From Sonic Disruptors #6 (DC comic book mini-series written by Mike Baron, drawn by Barry Crain & John Nyberg), Jun. 1988.


Red River Unger and the Saddlesores - From the TV show Odd Couple, The (10/17/74). From the "Strike Up the Band or Else" episode. Oscar (Jack Klugman) owes Billy (Pernell Roberts) money, so he gets his roommate Felix's smooth jazz band, The Sophistocatos, to play country and western as this band at Billy's barn dance to pay off the debt. See also The Sophistocatos. Thanks to Michael S. Duncan, Jack Daly, Laura10801, Jay Todtman for this one.

Redcoats, The - From the TV show The Dick Van Dyke Show (2/10/65). Thanks to Judy for this one.

Redcorn, John - See Big Mountain Fudgecake.

Reed, Kitty - From the movie I Accuse My Parents (1944). This movie was also mocked as a episode of Mystery Science Theater 3000 (09/04/93).

Reese, Linnea - Lily Tomlin plays the only white member of a black gospel choir in Robert Altman's 1975 character-driven film Nashville. See also Haven Hamilton, Connie White, Barbara Jean, Tommy Brown, Sueleen Gay, The Smokey Mountain Laurels and Tom, Bill & Mary.

Reeves Nevo and the Cinch - From the movie Fast Times at Ridgemont High (1982)? Sorry, they're REAL!

Reg Nullify and his Cataclysmic Combo - From The Restaurant at the End of the Universe (novel by Douglas Adams), 1980.

Regulars, The - From This is Spinal Tap. This is the early 60's London band that was originally The Originals, forcing the Spinal Tap precursor band also called The Originals to change their name to The New Originals. But then the original Originals changed their name to The Regulars. So, The New Originals could have gone back to the name The Originals, but they said screw it and became The Thamesmen instead. Got it? (see also The Folksmen, Duke Fame, Spinal Tap)

Renaldo - From the movie Renaldo and Clara (1978).

Repulsives, The - From Ban Roll-On deodorant TV commercial, 1965. Thanks to The Rock Video Sixties Project

Residue - From the TV show My So-Called Life (1994-1995). Thanks to Chad Swiatecki for this one.

Revere, Bo - In "The Zack Tapes" episode (12/02/89) of Saved by the Bell, that mischevious amoral bastard teen Zack (Mark-Paul Gosselaar) hides subliminal messages on a tape of this artist's song "Don't Leave With Your Love," so that Kelly (Tiffani-Amber Thiessen) would listen to it and dump Slater (Mario Lopez) and go to the dance with him instead. It backfires when EVERYONE listens to the tape and wants to go to the dance with Zack. Messing with people's minds? For a lousy dance? Dude, that's just sick. See also The Five Aces, Hot Sundae, Stevie, Zack Attack.

Rhodes, Larry "Lonesome" - From the movie A Face in the Crowd (1957).

Rhonda Weiss & the Rhondettes - From the TV show Saturday Night Live. Sixties looking girl group of Jewish American princesses who sing "Goodbye Saccharin," an ode to their favorite low calorie sugar substitute in the opening skit of the 03/19/77 episode of Saturday Night Live. Saccharin was briefly under suspicion at the time of causing cancer in lab rats. Now we know that you can safely eat up to 12 pounds of it a day. Gilda Radner was Rhonda Weiss. The Rhondettes were Jane Curtin, Laraine Newman and that week's musical guest, Linda Ronstadt.

Rib Tips, The - From the TV show The Steve Harvey Show (). Thanks to Charles Rempel for this one.

Ricardo, Ricky- Desi Arnaz played the bandleading, club-owning, Cuban husband of that crazy, stupid, pathetic, conniving, self-destructing redhead, Lucille Ball, in the classic 1951-1957 sitcom, I Love Lucy. He was too good for her, if you ask me. Ricky, a talented conga drummer and arranger, owned the Tropicana Club, later the Babalu Club, where his talentless harridan of a wife kept scheming to get into the show. Weird Al Yankovic produced a 1991 CD of some of the songs from the show.

Richard Carleton Experience, The - From the TV show Club Buggery (1995-1997). Thanks to David Bromage for this one.

Richie, Tim - From the TV show The Rockford Files (10/19 & 26/79). From the two part "Only Rock 'n' Roll Will Never Die" episode. Thanks to Kim Newman for this one.

Ricky and the Balloons - From "Glamour Boy" (song by The Guess Who, written by Burton Cummings, album title:#10), 1973. Thanks to Brian A. Marek for this one.

Riggs, Eleanor "Ellie" - From the TV show Watching Ellie (2002). Lounge singer played by Julia Louise-Dreyfus in this short lived post-Seinfeld sitcom that suffered the same early-cancellation, post-Seinfeld curse that Michael Richards' show and Jason Alexander's show suffered. Thanks to Chris Gruin for this one.

Righteous Apples, The - From the TV show The Righteous Apples (1981). Thanks to mike rubin for this one.

Righteous Rockers, The - From Sonic Disruptors #4 (DC comic book mini-series written by Mike Baron, drawn by Barry Crain & John Nyberg), Mar. 1988.

Riley, Russ - From the 50's movie parody skit, "I Was a Teenage Communist" on the 07/16/82 episode of SCTV. Real rocker Dave Edmunds and his band appear in the film playing "From Small Things (Big Things One Day Come)" at the Coco Shack. Dave plays Russ Riley, the band's leader and secretly a commie no-goodnik trying to seduce normal teen Eddie Davis (Martin Short) into communism with rock 'n' roll. Then Eddie tries reefer, turns into a werewolf, and is gunned down by the cops. So kids, remember: stay away from drugs, communism, rock 'n' roll, and lycanthropy! See also Vic Arpeggio, Big Momma, Happiness Unlimited, Tom Munroe, Speed of Light, The Wally Hung Trio.

Riptides, The - Total Beach Boys stand-ins in the 1996 movie, Grace of my Heart. Carole King-like main character Denise Waverly (Illeana Douglas) meets up with the group's leader, Brian Wilson-like Jay Phillips (Matt Dillon), when her boss, Joel Millner (John Turturro), gets him to produce her single, to cheer her up after a couple of unhappy relationships. Jay gives her song, "God Give Me Strength" a big orchestral sound, but it has "disappointing" sales. But they get married, so it works out. She has a ringside seat as he moves the band from California surf ("Take a Run at the Sun") to theremin-driven symphonic rock ("Chewing and Waving"). But one members grouses, "where are the cars, where are the surf boards?" Anyway, Jay, a bit space cadet, goes completely loopy, losing the kids and locking himself into the studio for 3 weeks. He gets talked out and after telling Denise how much talent she has and how much he wants to help her make her album, walks into the ocean and drowns himself. Doofus. The rest of The Riptides were played by real band Redd Kross: Jeffrey McDonald, Steven McDonald, and Brian Reitzell. The Beach Boys-pastiche songs were written by Dinosaur Jr.'s J. Mascis, who also had a bit part playing The Riptides' engineer. See also The Click Brothers, Little Tammy Lee, The Luminaries, Kelly Porter, The Stylettes, Denise Waverly.

River Bottom Nightmare Band - See The Nightmare

Rivers, Deke - See Jimmy Tompkins.
| | |
| --- | --- |
| Rivers, Nick - None other than Val Kilmer played this late 50's/early 60's style teen rock idol in the 1984 Zucker-Abrahams-Zucker comedy Top Secret! He actually sang the songs on the soundtrack as well: the Beach Boys parody "Skeet Surfing," a parody of "Are You Lonesome Tonight," and the period-type songs "How Silly Can You Get," "Straighten The Rug," "Spend This Night With Me" and a straightforward cover of "Tutti Frutti." This humble six song cassette is one of my prized possessions. | |


Robbins, Vicki - From the film The Deadly Bees (1966). In this crapulous "horror" flick British actress Suzanna Leigh plays Robbins, a pop singer exhausted by her go-go lifestyle. After she collapses while filming a proto-music video with the Birds, her doctor suggests that she get some rest at what is widely recognized as the most restful place on earth: a bee farm on a remote island inhabited by terminally depressed people and a depressed dog. Sadly, a few people (including Vicki) get out of the film alive. Perhaps the most amazing thing about the movie (which was bad enough to land on MST3K) was that the script was co-written by "Psycho" scribe Robert Bloch! Another band in the film, The Birds, featuring a Pre-Rolling Stones Ron Wood, was real.

Roberts, Bob - Folksinging evil right-wing Senate candidate from Pennsylvania portrayed by Tim Robbins in the 1992 movie Bob Roberts. All his albums were parodies of Bob Dylan album titles (The Freewheelin' Bob Roberts [1987], The Times They Are A-Changin' Back [1988], and Bob on Bob [1990]). Personally, I think it's crime there was no soundtrack released for this movie, but apparently Tim Robbins had an ethical problem with the possibility of people singing along to the right-wing songs and forbade it. The songs were written by Robbins and his brother David. When Tim Robbins appeared on Saturday Night Live (10/03/92), he performed in a sketch as Bob Roberts, which brought it all full circle, since the character originated in a short film Tim Robbins did for SNL in 1986.

Roberts, James - Real rocker and eighties heartthrob Rick Springfield played this fictional rocker in the 1984 film Hard to Hold. He sang "Love Somebody" and "Bop 'Til You Drop" both of which charted in the US top 20. His ex-girlfriend Niki Nides (Patti Hansen) is still in the band, hindering his efforts to charm the woman of his dreams, social worker Diana Lawson (Janet Eilber), who never heard of him. Thanks to Galen for this one.

Robin, Jack - Real name Jakie Rabinowitz (Al Jolson), this is the title character of the first ever talkie, 1927's The Jazz Singer! He defies his cantor father (Warner Oland) to become, duh, a jazz singer. He sings "Toot, Toot Tootsie," "Mother of Mine, I Still Have You," "Dirty Hands, Dirty Faces," "Kol Nidre," Irving Berlin's "Blue Skies" and of course, "My Mammy." (see also Jerry Golding and Yussel Rabinowitz)

Robinson, Mantra - Long haired artist (Neil Innes) being interviewed in the "The Old Gay Whistle Test" sketch on Rutland Weekend Television. He discusses how he's spent two years spelling the title of his new album (on the Vegetarian label), Karmic Subtopian Protoplasmic Maximised Mantric Arcadian Intrusions. He also talks about his bandmates: Brad who's in prison, Ronnie who's had a brain injury since 1957, Pete who he killed, and bass violinist Al Hutz who he dropped down an elevator shaft. See also Splint, Stan Fitch, and Toad the Wet Sprocket.

Rock Toxin - From the TV movie Pop Rocks (2004). Turns out normal dad Jerry (Gary Cole) used to be Dagger, the lead singer for this 80s one-hit wonder hair metal band. He gets hit up by the other members to reunite for a high-paying reunion gig. Jerry only does it for the money to put his kids through college and tries to keep his participation a secret from his family. The lead guitarist is Izzy (David Jensen). Thanks to Dallas for this one.

Rocker, Sky - From the TV movie Rockin with Judy Jetson (1988). Hot, hip rock star beloved by Judy Jetson. Voiced by Rob Paulsen. See also Jet Screamer.

Rocket Scientists, The - From Maniac Mansion (PC computer game) from LucasFilm, 1988.

Rockin' Beats, The - From the animated TV show My Little Pony Tales (1992). Band of ponies. Little ponies. My little ponies, the worst kind. In the "Battle of the Bands" episode, pony Melody forms this band to compete in a duh, battle of the bands. Lineup: Melody, Tuneful, Sweet Notes, Pretty Beat, and Half Note.Thanks to for this one.

Rodgers, Hallie - From the movie The Cool Ones (1967).

Rod Torfulson's Armada featuring Herman Menderchuck - See Armada

Rod Torfulson's Armada featuring Herman Menderchuck and the Dudettes - See Armada

Rogers and Clarke - Warren Beatty was Lyle Rogers and Dustin Hoffman was Chuck Clarke, the singing songwriting duo in the deservedly underrated 1987 movie Ishtar. I actually saw it and the first 20 minutes or so when they team up and start writing songs actually isn't that bad, but then the plot clumsily lurches into gear and everything goes straight to hell. Their awful songs are pretty funny. I enjoy "Telling the Truth is a Dangerous Business" for some reason. Diminutive 70's singer songwriter Paul Williams apparently penned many of the deliberately bad songs. And dammit, there's no soundtrack album for this movie either!

Rogers, Charlie - Elvis Presley plays this wandering singer who turns carny in 1964's Roustabout.

Rogers, Jackie Jr. - Extremely bizarre and eccentric albino lounge singer portrayed by Martin Short. A somewhat fey extrovert, he prefers wearing silver lamé and constantly milks his famous father's tragic death for whatever it will get him. He has an annoying tendency to laugh thru his teeth. Martin Short originated the character on SCTV, and afterward imported him where ever he was working: his Saturday Night Live tenure (1984-85); his two cable specials: Martin Short Concert for the North Americas (1985), I, Martin Short, Goes Hollywood (1989); and another special, The Show Formerly Known as The Martin Short Show (05/20/95). (See also The Queenhaters, The Ramblers, Jackie Rogers Sr.)

Rogers, Jackie Sr. - Best known as the father of Jackie Rogers Jr. Most of what is known of him is from the SCTV sketch, "Jackie, We Hardly Knew Ye" (03/11/83), a mockumentary where Jackie Rogers Jr. played his father. J.R. Senior had a vaudeville act and used his kids in it, until the State took 'em away and he hit the skids. He died after being mauled by a cougar in the middle of his 1970 comeback special, Old Mother Nature, She Loves Me. I believe he was singing "Born Free." His son wrote a tell-all, Damn You, Daddy, Sir. Jackie Rogers Sr. was not an albino. See also The Queenhaters, The Ramblers, Jackie Rogers Jr..


| | |
| --- | --- |
| Roll, Rock - Prehistoric pop star who sings the big hit "The Bedrock Twitch," in "The Twitch" episode (10/12/62) of the animated show The Flintstones. Um, it's a parody of "The Twist," but also a swipe at Elvis' redneck accent. He gets sick and Fred looks enough like him to be forced to lip-sync to the song on stage pretending to be him. Hal Smith was the voice of the cornpone-sounding Rock Roll. The song was written by William Hanna and Joseph Barbera. | |


Rolletti, Tony - Talentless lounge singer played by Bill Kirchenbauer from the '77-'78 TV talk show spoof Fernwood 2-Night (later America 2-Night). A frequent guest, he got married on one episode a la Tiny Tim- then got divorced on the show on a later episode. (see also Happy Kine and the Mirth Makers)

Rollins, Smitty - From the TV show The Steve Harvey Show (). Thanks to Charles Rempel for this one.

Romeo Smooth - From the animated TV show The Simpsons (02/13/05). Rap grpup playing the Springfield Murder 4 Life rap concert. In the "Pranksta Rap" episode, Bart sneaks out of the house to go see the concert after being forbidden to go. Bart even gets onstage and raps a bit. But when he gets back home, he finds that his folks have discovered his absence, so he fakes his own kidnapping. Real rapper 50 Cent has a cameo as himself, but doesn't play the concert. Other rappers at the concert who are just glimpsed in the tv commercial for it are: Da Glock Pointers, Queen Booty Shaker, and MC Champagne Millionaire.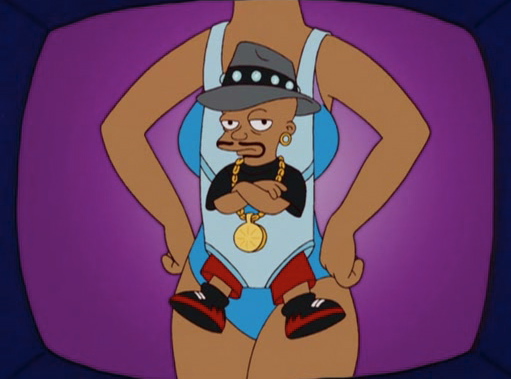 Roofi - From the animated TV series The Simpsons (01/04/04). Blatant parody of children's music artist Raffi. Marge takes Maggie to his outdoor concert. However, sudden rain and a baby bottle to the face have Roofi cancel, and the concert turns into a riot. The Teletubbies open for him. From the "Marge vs. Singles, Seniors, Childless Couples and Teens, and Gays" episode

Rose - Self destructive Janis Joplin-inspired female rock star played by Bette Midler in 1979's The Rose. The source of the song of the same name, natch.

Ross, Andrew - From the TV show Quantum Leap (11/01/89). In the "Blind Faith" episode, Sam leaps into the body of this classical pianist, who is blind. See also King Thunder, The Lovettes, Chris Stone.

Round Pound, The - Johnny Bravo meets up with this morbidly obese hip-hop trio in the "Hip Hop Flop" episode of his animated show on the Cartoon Network. The Round Pound's DJ has eaten his turntables, and Johnny finds them a new one. As payment, the group teaches him how to be down, def, and dope. Real rap star Chuck D. provides the voice of member CD Biggenz. Thanks to Alan for finding and writing this one up. (see also Johnny and the Deer Ticks, Berry Vanderbolten)

Rowlf the Dog - Piano playing dog muppet best known for his love of bad puns and stint as the house piano player for the 1976-81 The Muppet Show TV series, but his career goes back much further. His first gig was in a 1962 Purina Dog Chow commercial. He was a regular on the 1963-1966 The Jimmy Dean Show. In 1968 he hosted (!) Our Place, the summer replacement series for The Smothers Brothers Comedy Hour. Then he did a stint on the first (1969) season of Sesame Street before the Muppet Show. Rowlf was voiced by Jim Henson. Henson's 1990 death put a serious crimp in Rowlf's style and he was subsequently relegated to the background in later muppet movies and their 1996 TV series, Muppets Tonight. Some of Rowlf's performances were collected on the album Ol' Brown Ears is Back. See also Dr. Teeth and the Electric Mayhem, Miss Piggy.

Ruben and The Jets - From Crusing with Ruben and the Jets (album by Frank Zappa and the Mothers of Invention), 1968. Thanks to Dave McGranahan for this one.

Rude Jr., Barrett - See Barrett Rude Jr. and the Subtle Distinctions.

Ruffee - Parody of long time children's musician Raffi in the "Ruffled Ruffee" episode (11/11/92) of Tiny Toon Adventures.. Voiced by Rob Paulsen. Ruffee is holding a concert, singing twee praises to obedience, when he is upstaged by a guitar playing Buster Bunny (voiced by Charlie Adler). See also Def Zepplin, Fuddonna, Skinhead O'Connell, Vanilla Lice.

Rule, Hamlin - From the "The Pied Piper" episode (11/21/77) of tv adventure show Wonder Woman. Comedian Martin Mull plays this flute-playing rock star whose last three concert box office receipts have been heisted mid-concert by sonic-gun wielding thieves. It turns out Rule himself has brainwashed some female fans into doing it for him, you know, with his flute-playing?! Because you know how you get hypnotized by the sound of a flute, right? Well, Elena Atkinson (The Brady Bunch's Eve Plumb) does, and since she's the daughter of IADC (Inter-Agency Defense Command) honcho Joe Atkinson (Normann Burton) and Diana's boss, Diana Prince (Lynda Carter) is sent to investigate. As Wonder Woman, she kicks the necessary asses needed to wrap up the plot and reunite Elena with her father. The episode's writers David Ketchum & Tony DiMarco must have thought themselves clever; "Hamlin" is the town the Pied Piper story takes place in. See also AntiMatter, Billy Dero, Jeff and Barbi Gordon, Lane Kinkaid, Kathy Meadows.

Runaway Five - From EarthBound (Super NES video game by Nintendo), 1995. Thanks to UkuHawa for this one.

Runner Beans, The - From the movie Privilege (1967). Unnamed in the film, their name is given in the credits as "The Runner Beans" and credited as The George Bean Group. On the soundtrack album, they are credited as George Bean and the Runner Beans. This band of surly-looking musicians rock out on "Onward Christian Soldiers" as part of the scheme to turn the protagonist Steve Shorter from bad boy to redeemed conformer. A batch of padres is asked "Is it a hit? Or a miss?" They open Shorter's big gig with that "Did Those Feet" hymn to kick off the start of Christian Crusade Week. See also Steven Shorter.

Ruprick and Cletus - From When I Grow Up (Internet comic strip by Jeffrey J. Rowland), 2000.

Rush, Cathy Geary - From the TV show Knotts Landing (1983-86). Thanks to Gene Sculatti for this one.

Rusty Hinges and the Boys From the Brig - see Bird Brains, The
| | |
| --- | --- |
| Rutles, The - From the 1978 TV special All You Need is Cash. An excellent fake band who get several pages in my book is The Rutles. They have a newish album out, Archaelogy. The Rutles first originated on the Rutland Weekend Television program, er, sorry, programme in the UK, an obscure post-Monty Python show of Eric Idle's. (see also Punk Floyd, Les Garçons de la Plage, Arthur Hodgeson and the Kneecaps, The Machismo Brothers, Ruttling Orange Peel, Blind Lemon Pye. | |


Ryan Malloy Band, The - From the TV show Unhappily Ever After (11/03/96).


A
B
C
D
E
F
G
H
I
J
K
L
M
N
O
P
Q
R
S
T
U
V
W
X
Y
Z

NEW

Links
Main
Got an addition, suggestion or correction?