Art King
From Rocklopedia Fakebandica
Jump to navigation
Jump to search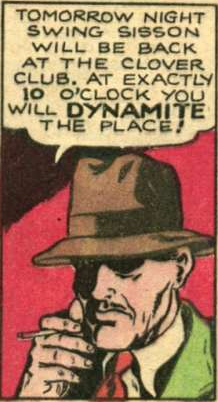 Swing bandleader who tries to kill rival bandleader Swing Sisson in issue #65 (February 1943) of Quality anthology comic book Feature Comics.
Swing has started to hit the big time, playing the Metropolitan Theater to 10,000 people. But King hires goons to set fire to the club, causing an unknown number of people to get burned or trampled to death. Failing to get Sisson, he then plants dynamite at Sisson's regular gig spot, the Clover Club on Broadway. Sisson's singer Bonnie Baxter gets kidnapped by him, but escapes in time to warn Sisson and save the club. It's only revealed at the end of the story that the perpetrator is Art King, bandleader at the Moonbeam Garden. Sisson describes King as demented.
Created, written, and drawn by Phil Martin.
See also