Swing Sisson
From Rocklopedia Fakebandica
Jump to navigation
Jump to search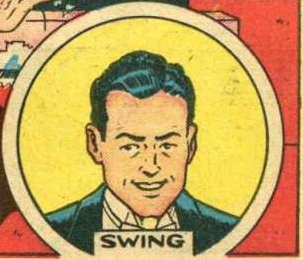 Crime-fighting swing bandleader who swings a mean punch as well as a baton in the comic book Feature Comics, an anthology-type comic of various funny and adventure stories. Swing usually stumbles into conflict with organized crime but beats them up.
His singer is Bonnie Baxter and his sax man is Toby Tucker. Swing, Bonnie, and Toby first appeared in the "Crime at the Clover Club" story in Feature Comics #49, October, 1941. The last Sisson story appeared in the last issue, #144, May 1950.
They have a regular gig at Pete Jaxon's Clover Club on Broadway in New York City, but ventured out occasionally, such as a South American goodwill tour (where they battled Nazis), and battled a dope ring in a neighboring towns, and venturing to Hollywood to be in a film.
Sisson was created by Phil Martin, and originally written and drawn by him. After a few years different artists and writers took it over, including Vernon Henkel. Feature Comics was published by Quality Comics.
See also