Tony's Combo
From Rocklopedia Fakebandica
Jump to navigation
Jump to search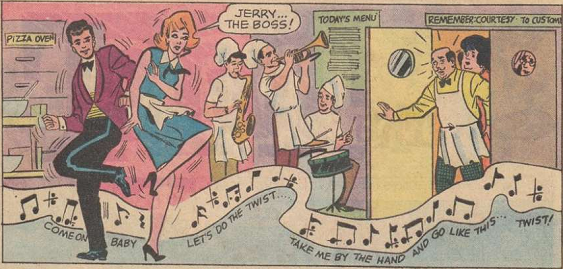 Impromptu twist band from odd Dell comic book one-off The Twist (July-September 1962).
Tony's Pizzeria on West 56th Street in New York City normally has traditional Italian music (Mama Rosa on accordion with two violin players, one named Guiseppe). But on a slow night when there's no customers, three cooks form this impromptu sax-trumpet-drums trio to play twist music (Bobby on sax) in the kitchen for fun. Across the street, the Marshmallow Club has twist music and a line around the block to get in.
Tony sees an opportunity and demotes Mama Rosa and her violin players into the kitchen to cook, and has the chefs come onstage to play their twist music in the restaurant. A waiter runs to get his friends from the overcrowded Marshmallow Club across the street, and soon lots of Marshamallow Club patrons are abandoning it for Tony's Pizzeria.
Eventually there's a battle of the bands in the street, and everyone gets taken to the precinct house.
See also
External Links