Marshmallow Club's Combo
From Rocklopedia Fakebandica
Jump to navigation
Jump to search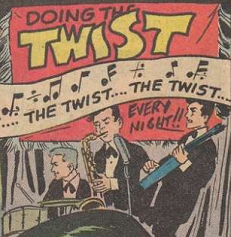 Otherwise unnamed rock and roll band from the odd Dell comic book one-off The Twist (July-September 1962).
This guitar-sax-drums trio plays twist music at the popular Marshmallow Club on West 56th Street in New York City (a spoof of the real Peppermint Lounge in NYC). When Tony's Pizzeria across the street adds their own twist band, Tony's Combo, it steals business away from the Club. Club management doesn't care until it loses celebrities like Lola La Tour and socialites like Miss Helen Gordon and Countess Belcasy.
When this band gets so tired it can't play anymore, they just put on a record, and have the kitchen staff mime to it.
Eventually there's a battle of the bands in the street, and everyone gets taken to the precinct house.
See also
External Links