Star Dust
From Rocklopedia Fakebandica
Jump to navigation
Jump to search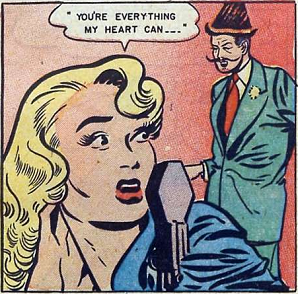 Performing name of model/singer Star Dalman (the modeling agency changed her name) from the "I Was a Stooge for Love" story of romance comic book Youthful Romances #7 May 1951). She gets a big break when Tony Ward wants her to sing on his new TV series, after he auditions her with Hal Downer's band. They start dating.
She sings on the show, but sees Ward is clowning around behind her, making the act a comedy. Humiliated, she storms off the set, refusing to see him again.
When she finds out later his show is about to be cancelled, that her number was the hit of the show, and that Ward didn't tell her what he was going to do so the act would be funnier, she has a change of heart, comes back on his show and saves it. They reconcile and marry.

Not to be confused with similarly named singer Miss Stardust, from an earlier issue of the same comic book.
External Links