Miss Stardust
From Rocklopedia Fakebandica
Jump to navigation
Jump to search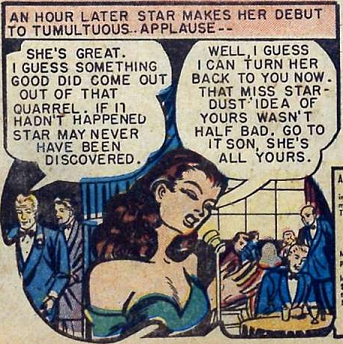 Female singer from the "Miss Stardust" story of comic book Youthful Love Romances #4 (Feb-Mar 1950). Real name Star Garis, she's a bespectacled staff member of NBC studios in New York, working for radio show Saturday Night Hit Parade and producer Al Pearce and singer Bill Harringon. The radio show, producer, and singer are all actual real things.
Star gets mad at her boyfriend, NBC press agent Tim Brannon, when she catches show chorus chippie Laura Austin throwing herself at Brannon to get her own singing career started. They fight, and break up. Fortunately or not, Harrington and Pearce hatch a semi-brained scheme to make Brannon come crawling back. They give Star a makeover, and treat her like a new singing talent. It works, and several complications later, Star and Brannon are back together, Star really has singing talent, and Pearce gives Brannon the go-ahead to promote her as "Miss Stardust" with the song "Stardust" as her theme.
A message from the publishers at the end of the story asks readers to write in if they want Miss Stardust to be a regular feature.
The story was drawn by artist Walter Johnson, who is better at drawing cars than people.

Not to be confused with similarly named singer Star Dust, from a later issue of the same comic book.
External Links