Sonny Robbins
From Rocklopedia Fakebandica
Jump to navigation
Jump to search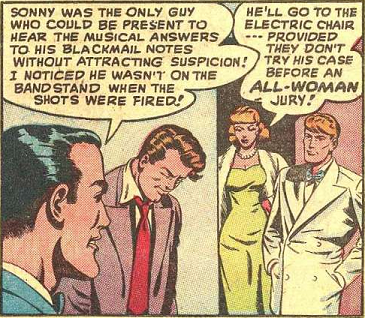 Handsome swing band singer popular with the ladies in "The Maestro of Murder" story of Feature Comics #125 (August 1948).
He's just been hired by bandleader Diggy Vernon for a four week run at the Gold Coast Cafe. As Diggy says, "He cost a fortune, but he's worth it to me! This could lead to a big time radio show... ." Unfortunately, it costs Diggy his life instead, because Sonny is really blackmailer "The Maestro" who threatens bandleaders unless they pay up. When Diggy takes Swing Sisson's advice and turns the Maestro down, Sonny slips away, dons a hat and mask and shoots Diggy while he's conducting!
Swing Sisson takes over Diggy's gig, and traps and captures the Maestro.
Also the writers forgot they already named a Swing Sisson villain The Maestro just five years before!
See also
External Links