Lounge Lizard
From Rocklopedia Fakebandica
Jump to navigation
Jump to search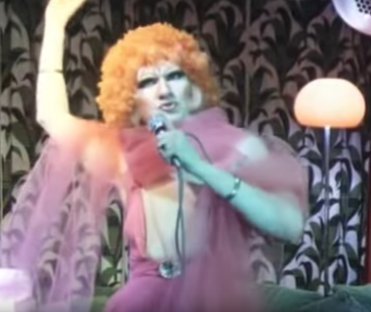 World's biggest rock singer from the weird, violent Derek Jarman film Jubilee (1978), set in London in a collapsing United Kingdom, beset by lawlessness and anarchy.
We're told they've just sold "50 million copies" in Russia alone of their hit "Paranoia Paradise," which is heard in the film. The androgynous Lizard is murdered by Bod (Jenny Runacre), the leader of a violent street gang, when they break into her apartment.
"Were you involved in the filming of Jubilee and what did you think of the film"?

"Wayne had a co-starring role in Jubilee playing the part of Lounge Lizard, and Wayne and The Electric Chairs performed the song "Paranoia Paradise" in the movie, in a scene where Lounge Lizard is watching him / herself and the band on a T.V. set and singing along to the song, so it was a very brief appearance by the band.

-Interview with drummer JJ Johnson of Wayne County and the Electric Chairs
Played by singer Wayne County, before she became Jayne County.
See also
External Links