Hot-Lips Horton
From Rocklopedia Fakebandica
Jump to navigation
Jump to search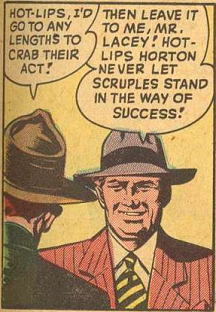 Bandleader of dubious morals at the Rhythm Club in New York City, and rival of bandleader Swing Sisson from the Swing Sisson story in Feature Comics #131 (February 1949). When Sisson hires pretty dancing girls to compete with the Rhythm Club, owner Lacey and Horton cook up a scheme to sabotage it. They put a padlock on the dressing room, and substitute their own ugly and overweight dancers. It backfires when the audience thinks it's a comedy act and loves it.
Horton says he and Sisson have been rivals for years.
Although it's not specified or shown, Horton's nickname clearly implies he plays a brass instrument, probably a trumpet.
See also
External Links