Gus Getti
From Rocklopedia Fakebandica
Jump to navigation
Jump to search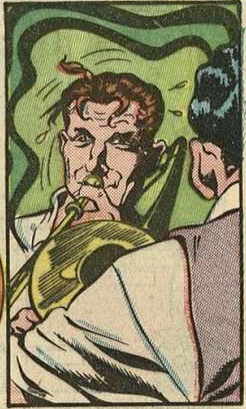 Trombonist and dope addict from "The Boogie Woogie Dirge" story of Smash Comics #56 (Dec 1944).
Guiseppi "Gus" Getti is the trombonist for Mel Marvel and his Melody Madcaps, but he gets himself murdered after threatening his dealer, and trying to call the cops on him.
It's all just shortly before the band is supposed to debut Marvel's new composition "The Boogie-Woogie Dirge" in a remote radio broadcast from the Revue Theater. Marvel had been rehearsing his band members hard, desperate to make his Dirge a hit.
Cop "Rookie" Rankin figures out that bandleader Mel Marvel is the one peddling dope to his own bandmembers. But when Marvel attacks Rankin and flees, he's murdered by Gus' father before he can face justice. Gus' father Anthony confesses.
See also
External Links