Gossamer Wump
From Rocklopedia Fakebandica
Jump to navigation
Jump to search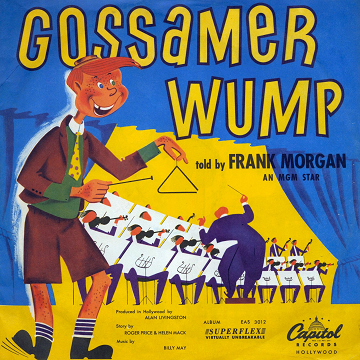 Aspiring triangle player with heterochromia iridum and hero of the 1949 comedy album The Adventures of Gossamer Wump. After ten years in music school, he gets his first job with Gaylord Gout, but gets himself fired.
He then gets a gig with Stanislav Hudnut's symphony orchestra, but flubs it. Redemption comes in the form of frozen milk, as he becomes the guy who plays the triangle on top of an ice cream truck.
The story was written by Roger Price (who was also the co-creator of Mad Libs) and Helen Mack, the music was by Billy May, and the narration was by Frank Morgan (the Wizard from The Wizard of Oz).
The original audio was edited and used to make a 1960 animated short version of the story by Mel-O-Toons, only they inexplicably changed the name to Gosomer Wump.
External Links