Billy Sexcrime
From Rocklopedia Fakebandica
Jump to navigation
Jump to search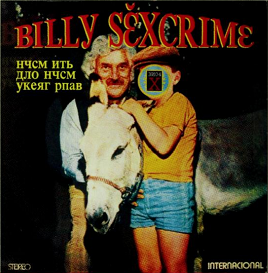 One of the two most popular singers in Kazakhstan, according to reporter Borat Sagdiyev (Sacha Baron Cohen).
He was probably first mentioned in one of Borat's appearances on Da Ali G Show (2000, 2003-2004).
One of his album covers was included in the 2007 book tie-in, Borat: Touristic Guidings to Glorious Nation of Kazakhstan. The artwork was borrowed with alterations from the real 1975 album o Velho o Menino e o Burro (The Old Man, The Boy and the Donkey), the soundtrack album to a Brazilian television series of the same name.
See also