Victor Columbia Edison
From Rocklopedia Fakebandica
Jump to navigation
Jump to search
A bizarre and tragic creature from L. Frank Baum's 1913 novel, The Patchwork Girl of Oz. An old Victrola-style hand-cranked phonograph machine accidentally animated by the magical Powder of Life. As it was bolted to a table, it can walk and run with the animated table legs. Formerly the property of the Crooked Magician Dr. Pipt, it is driven out as it won't stop playing annoying music.
A.K.A. "Vic."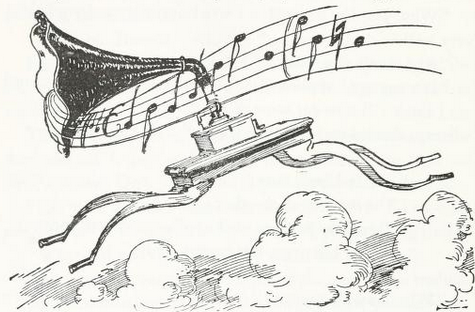 Just then they heard a sound as of footsteps pattering along the path behind them and all three turned to see what was coming. To their astonishment they beheld a small round table running as fast as its four spindle legs could carry it, and to the top was screwed fast a phonograph with a big gold horn.

"Hold on!" shouted the phonograph. "Wait for me!"

"Goodness me; it's that music thing which the Crooked Magician scattered the Powder of Life over," said Ojo.

"So it is," returned Bungle, in a grumpy tone of voice; and then, as the phonograph overtook them, the Glass Cat added sternly: "What are you doing here, anyhow?"

"I've run away," said the music thing. "After you left, old Dr. Pipt and I had a dreadful quarrel and he threatened to smash me to pieces if I didn't keep quiet. Of course I wouldn't do that, because a talking-machine is supposed to talk and make a noise--and sometimes music. So I slipped out of the house while the Magician was stirring his four kettles and I've been running after you all night. Now that I've found such pleasant company, I can talk and play tunes all I want to."

Ojo was greatly annoyed by this unwelcome addition to their party. At first he did not know what to say to the newcomer, but a little thought decided him not to make friends.

"We are traveling on important business," he declared, "and you'll excuse me if I say we can't be bothered." "How very impolite!" exclaimed the phonograph.

"I'm sorry; but it's true," said the boy. "You'll have to go somewhere else."

"This is very unkind treatment, I must say, whined the phonograph, in an injured tone. "Everyone seems to hate me, and yet I was intended to amuse people."

"It isn't you we hate, especially," observed the Glass Cat; "it's your dreadful music. When I lived in the same room with you I was much annoyed by your squeaky horn. It growls and grumbles and clicks and scratches so it spoils the music, and your machinery rumbles so that the racket drowns every tune you attempt."

"That isn't my fault; it's the fault of my records. I must admit that I haven't a clear record," answered the machine.
External Links