The Unmentionables
From Rocklopedia Fakebandica
Jump to navigation
Jump to search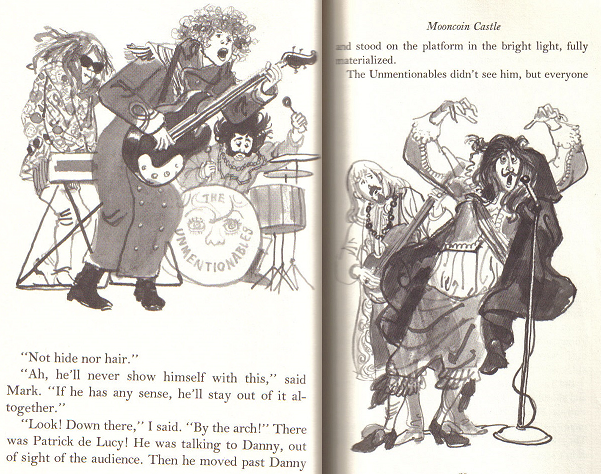 Hippy rock quartet from the 1970 young adult novel Mooncoin Castle by Brinton Turkle. They play a benefit concert for the Ireland National Trust to raise money to save Mooncoin Castle in Rathcarrick, Ireland. Mean old Mr. Crotty is going to tear it down and put up a supermarket. The castle's ghost, 17th century fop Patrick de Lucy, misguidedly tried to spook everyone at the concert, but his sudden appearance and cries of "Woe Woe Woe" are just seen as typical rock show indulgence, especially when the band quickly incorporates them into a song.
Alas, during the impromptu/inadvertent mortal realm/spectral world jam session, the show is cut short by a sudden rainstorm. Then guitarist Percy (the only member named) tries to convince the ghost to join them in America. Percy doesn't realize he's dealing with a ghost.
What I heard, you've never call music. And their singing! I've heard better singing from cats!

...

One of The Unmentionables, with yellow hair and a red beard, was playing an instrument and shaking it, or it was shaking him. He looked quite ill and he was yelling about something about loving a baby. And the others behind him were bobbing up and down and playing drums and strange instruments I never saw before. The noise that filled the courtyard was deafening.(page 57).
The novel also mentions Hank Mahon, the Irish Cowboy.