The Psychedelic Fuzz
From Rocklopedia Fakebandica
Jump to navigation
Jump to search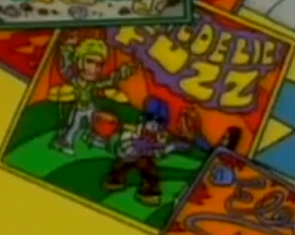 Phil Funnie's unsuccessful, yet critically acclaimed late 1960s band when he was young, before he was the father of the title character of the animated television series Doug. Turns out big-time band The Beets were fans and count the Fuzz as a big influence. First mentioned in the "Doug's Adventures On-Line" episode (June 5, 1999).
In the "Doug's Grand Band Plan" episode (June 19, 1999) the band reunites to play Doug's school dance.
Phil was the drummer. They released one self-titled album and a 45 rpm single from it, "She Sat on My Zither at the Sit-In and Oh What a High Note She Hit."
The band was also mentioned in at least two young adult novels based on the series: The Funnie Mysteries: The Case of the Baffling Beast (2000), and The Funnie Mysteries: Bad to the Bone (2000).
The band's name is a play on real band The Psychedelic Furs.
See also
External Links
{{#ev:youtube|xlSWqmKNl6M}}