The Dusted Bunnies
From Rocklopedia Fakebandica
Jump to navigation
Jump to search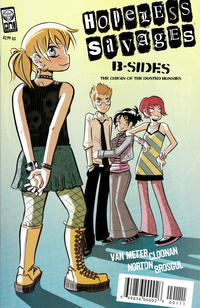 Punk/alternative rock band fronted by high-schooler Skank Zero Hopeless-Savage of the punk rock family the Hopeless-Savages in the Hopeless Savages comic book series by Jen Van Meter and Christine Norrie. It was first published by Oni Press in 2002.
A one-shot of the band's history, Hopeless Savages: B-sides: The Origin of the Dusted Bunnies #1, was released by Oni Press in 2005.
The rest of the band is: Emma (guitar), Toby (bass) and Flora (drums). Toby and Emma are dating.
Skank's dad, Dirk Hopeless, was formerly in Undertow and Little Davie and the Sterlings. Skank's mom, Nikki Savage, is also a musician.