Rocker Girl
From Rocklopedia Fakebandica
Jump to navigation
Jump to search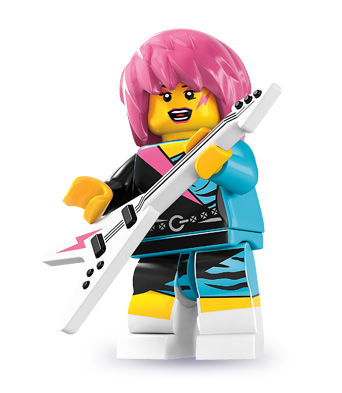 Wow. There are fake musician LEGO minifigs! They don't so much have names as occupations, but what can you do. This one is from Series 7, set 8831 Lego Minifigures.
From her online bio at LEGO.com says it all:
"I'm the best and I know it!"

Whatever you may say about the punky, pink-haired Rocker Girl, you can't ever call her humble! From her clothes to her music, she goes through life with complete confidence in herself. .... she lives for the way the crowd roars with excitement when she starts.

The Rocker Girl's unshakeable self-confidence has always been her greatest strength. No matter what troubles she faces – cancelled shows, electrical failures and bad cases of rockin' pneumonia – she always powers right on through, knowing that her next performance will be the greatest one yet.
External links