Progress Hornsby
From Rocklopedia Fakebandica
Jump to navigation
Jump to search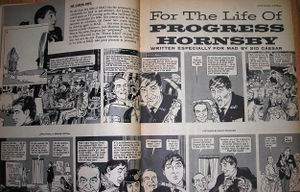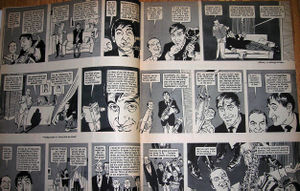 Beatnik Chicago jazz saxophonist who is way, way out there, man. From the sketch comedy television series Your Show of Shows (1950-1954). Played by comedy legend Sid Caesar, who could really play the saxophone and started his career as a musician. He also appeared in Caesar's Hour (February 2, 1957), reusing some of the same gags.
He also appeared in a 1959 issue of Mad Magazine, illustrated by Mort Drucker, and written by Sid Caesar himself.
He also appeared on The Dean Martin Show as "Dr. Progress B. Wayout," sometime between 1966 and 1970. He mentions his band, Fats Oregano on first trumpet, The Wolfman on baritone sax, and Count Dracula on bass.
See also
External Links