Pearl Burton
From Rocklopedia Fakebandica
Jump to navigation
Jump to search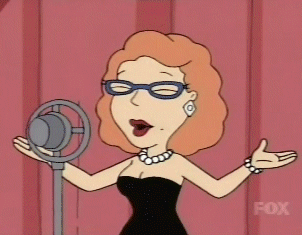 In the "Brian Wallows and Peter's Swallows" episode (01/17/2002) of FOX animated TV show Family Guy, Brian, the family dog, is depressed about his love life and hits the bottle.
Pulled for DUI (hey, it's a cartoon), he's sentenced to community service with the Outreach to the Elderly program. After doing thankless chore after chore for this horrible reclusive ole hag, he finally quits and tells her to drop dead. Later he sees Pearl profiled on TV as the top advertising jingle singer of 1945-1960. But when she tried to turn serious with a 1961 Carnegie Hall performance of "Habanera," from Georges Bizet's opera Carmen, the bored audience demanded Coppertone jingles. Crushed, she fled the stage, disappeared and became a recluse.
Brian, enchanted with her singing, rushes back just in time to prevent her suicide. Smitten, he urges her to finally go outside with him, where she is promptly hit by a truck. On her deathbed, she and Brian experience a lifetime of marital bliss, thanks to the miracle of virtual reality goggles. It's weird how the implied bestiality is undercut by the strange sentimentality.