Maureen Farrell
From Rocklopedia Fakebandica
Jump to navigation
Jump to search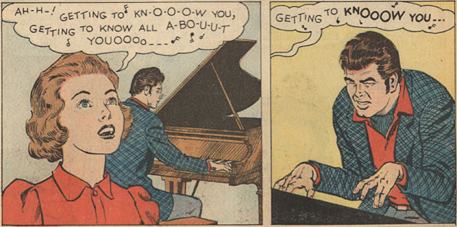 Vacationer, cub reporter, and amateur singer from "The Mystery of Shady Falls" running story starting in issue # of comic book Treasure Chest of Fun and Fact vol. 18, #11 (#337, January 31, 1963), and concluding in vol. 18, #20 (#346, June 6, 1963).
The Great Kohler's travelling roller-skating rink has just set up shop in Shady Falls, Maine. Kohler hires Farrell to front Woody Harrington and His Whispering Wizards even though she's terrible, because she has really good diction. Kohler needs good diction because the songs he writes for her and Harrington are really coded messages to a commie submarine waiting offshore!
Maureen, her brother, and an undercover FBI agent bust up the whole spy gang. And that's the end of her singing "career."
External Links