Mahna Mahna and the Two Snowths
From Rocklopedia Fakebandica
Jump to navigation
Jump to search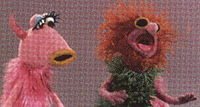 OK, you know the song. But why? Probably due to this group's odd appearance on the Juliet Prowse-hosted episode (first aired 25 Apr. 1977, but actually taped Jan/Feb 1976) of The Muppet Show. Goofy catchy song, goofy muppets, whatever, right? If only it were that simple. Let's dig a little deeper, shall we?
The song "Máh-ná Mah-ná" was written by Italian composer Piero Umiliani for the 1968 movie Sweden, Heaven and Hell (Svezia, inferno e paradiso), which was, uh, a "Swedish documentary," i.e., PORNO movie! The song did okay in America, chartwise (peaked at #55 on 4 Oct. 1969). Muppets man Jim Henson adapted it into a Sesame Street bit that aired Nov. 27, 1969, featuring a character later christened Bip Bippadotta.
In 1970, Jim Henson performed the song with the muppet character Mahna Mahna on The Ed Sullivan Show. So this was some seriously old schtick being recycled here. Anyhoo, perhaps due to The Muppet Show performance, or not (the song was also used frequently on The Benny Hill Show) on 30 Apr. 1977, Umiliani's original version re-entered the UK charts at #38, peaking at #8 on May 28th, 1977. Then, the week of 18 June 1977, Kermit's nephew Robin's song "Halfway Down the Stairs," with the Muppet version of "Mahna Mahna" as the B-side, peaked at #7 on the UK charts. The Muppet version (rerecorded, I believe) was included on the 1977 Arista records The Muppet Show album. The song is also on the 1993 Muppet Hits CD on Jim Henson Records/BMG Kidz.
And finally, in the 1996 Muppets Tonight series, they brought back Mahna Mahna and the song for a skit where Kermit hears singing whenever he says the word "phenomena" (show #7, US airdate 23 June 1996, UK airdate 20 Sept. 1996).
So. Nonsensical pop tune composed by an Italian for Swedish porno, later co-opted by the muppetmaster for a family-friendly kids' show. If you've seen Henson's 1965 avant-garde Time Piece, you'll realize that this odd performance is closer to the true Jim Henson than all the syrypy renditions of "It's Not Easy Being Green" put together.
External Links