Krusty the Clown
From Rocklopedia Fakebandica
Jump to navigation
Jump to search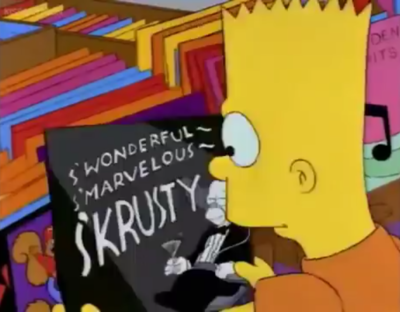 Stage name of Herschel Shmoikel Pinchas Yerucham Krustofsky from animated television series The Simpsons. While mostly an actor and host of a children's show, he has occasionally branched out into singing.
In the "Like Father, Like Clown" episode (24 Oct. 1991), Krusty sings on his show with a house band identified on the bass drum as Krusty and the Krums.
In the "I Love Lisa" episode (February 11, 1993), he shows a old clip of himself from 1973 singing The Doors' "Break on Through" on a show called Kroon Along With Krusty.
His album S'Wonderful - S'Marvelous - S'Krusty is shown in the "Homer's Barbershop Quartet" episode (30 Sept. 1993), next to a Melvin and the Squirrels album.
In the episode, "A Star is Torn" (05/08/2005), he creates and hosts the television series Krusty the Klown Li'l Starmaker Competition. On that show within a show, Lisa Simpson competes against Clarissa Wellington and Johnny Rainbow.
See also
External Links