Jock King
From Rocklopedia Fakebandica
Jump to navigation
Jump to search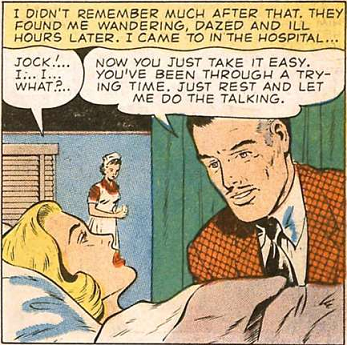 Older, successful dance band leader from the "Feet of Clay" story of romance comic book All for Love vol. 3, no. 1 (#14, April-May 1959).
He signs singing duo Danny Weaver and Lynn Powers to front his band.
When Weaver jilts her at the altar, she freaks out so bad she wakes up in a hospital hours later with no memories of how she got there.
King steps up to take care of her, and kinda takes advantage of her vulnerable state to ask her to marry him!
She does, but only because she feels obligated. She soon hears unpleasant rumors that King only does charity gigs for the free publicity, and he bought out her contract with Weaver and married her just to keep her as his singer.
Then Weaver gets in an accident just as King and band have to brave dangerous, snowy mountain roads to get a charity gig.
Weaver, on his deathbed at the hospital, tells Powers the truth: King didn't buy her contract from Weaver, he paid Weaver to cancel it. King thought Weaver was dragging her down.
See also
External Links