Javaquake
From Rocklopedia Fakebandica
Jump to navigation
Jump to search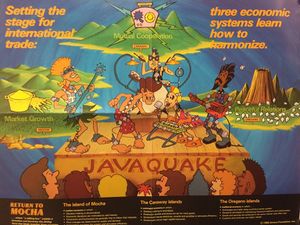 Rock band from the 1986 Amoco-sponsored, animated educational film, Return to Mocha.
They're from the fictional island nation of Mocha, whose economy is the focus of the film. The end up helping their country in a trade dispute with neighboring countries the Caraway Islands and the Oregano Islands, by going on a goodwill tour of the Caraway Islands and promoting crystals with their crystal-bedazzled stage outfits and the song "Crystal Rock." They become a big sensation there.
Amoco even put out a 45 rpm record with their two songs, "Javaquake" b/w "Crystal Rock."
The film is a sequel to the 1976 film The Kingdom of Mocha.
External Links
See also
EmbedVideo received the bad id "NqRKgmi6Iho?t=53" for the service "youtube".