Hyacinthe Maglanowich
From Rocklopedia Fakebandica
Jump to navigation
Jump to search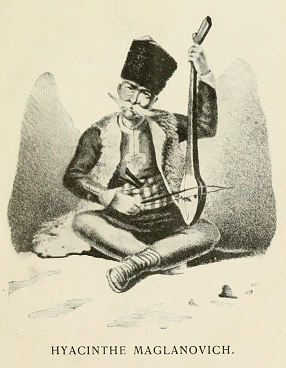 Fictitious Slavic composer and gusle player (a sort of one-stringed bowed banjo), invented by French dramatist Prosper Mérimée (1803-1870) as the author of his 1827 work La Guzla, ou, Choix de poésies Illyriques, recueillies dans la Dalmatie, la Bosnie, la Croatie et l'Herzegowine (The Gusle, or, Choice of Illyric Poems, collected in Dalmatia, Bosnia, Croatia and Herzegovina), supposedly a collection and translation of authentic Illyrian (Croatian) poems and ballads.
Mérimée helpfully included an introductory bio of Maglanowich and an engraving of him as the frontispiece! When real poet Pushkin started translating some of the poems into Russian, Mérimée felt he had to fess up to the hoax.
In the bio, Maglanowich was born in Zuonigrad, kidnapped at age 8 by Bohemians, taken to Bosnia and forced to convert to Islam. He was then taken to be a servant of the mayor of Livno, and converted to Catholicism by a monk at 15. Tired of his ill-treatment, he and the monk fled one night to Scign, and Maglanowich became a well-known gusle player there. When later he killed a rival suitor who attacked him, he was forced to flee with his wife and join bandits. Eventually he bought some land and settled in Kotar to raise children and cattle.
External Links