Horace Hippo
From Rocklopedia Fakebandica
Jump to navigation
Jump to search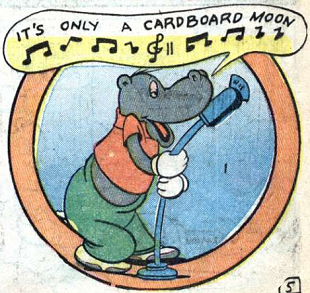 Amateur crooner wannabe who wishes he could be like famous radio star Rank Finatra. From the funny animal comic book Jack-in-the-Box Comics #11 (October 1946).
His jerk "friends" Philly and Bert convince him his sour notes are sweet music and to sing at the local amateur night. Then they buy a lot of produce to throw at him during his performance. Their "joke" backfires when the next day Horace opens a lucrative fruit and vegetable stand.
Horace sings "Its Only A Cardboard Moon," a parody of the 1933 song "It's Only a Paper Moon."
External Links