Hal Harrison and His Harmony Men
From Rocklopedia Fakebandica
Jump to navigation
Jump to search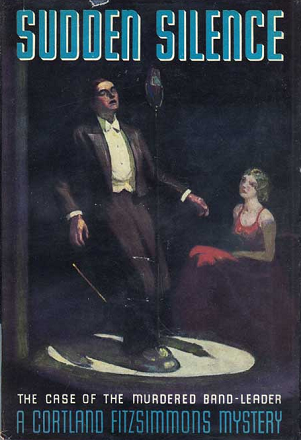 Successful and famous 1930s swing/dance band from the 1938 mystery novel Sudden Silence, the Case of the Murdered Band-Leader, by Cortland Fitzsimmons (New York, Frederick A. Stokes Company).
Hal Harrison had none of the traits of a bad- tempered prima donna. To his credit let it be said that his temper was quick rather than bad. Small things did annoy him and most of all he resented the incursions into his private life which had followed his sudden rise to fame, not only in the United States but, because of radio, all over the world. He was constantly besieged and beset by fanatics who wrote, wired and tried to see him personally. Except for sentimental women, most of the people who annoyed him had something they wanted to sell or some worthy cause which they hoped to promote with Harrison's money.
The band features the singing of "the famous Dale Sisters Trio which had been associated with Hal from his early days..."
The novel mentions other band leaders in San Francisco: "Chubby Carlton, Rex Kingsford, Chick Stoner and Phil Martin." Phil Martin, also a singer, becomes a murder victim after suing Harrison, throwing suspicion on Harrison: "Phil Martin, popular San Francisco band leader and one-time member of Hal Harrison's orchestra to bring suit against Harrison for one million dollars." Martin]was a former member of Hal's band, but left under shady circumstances.
Scat Miller is the tenor saxophonist in Hal's band.
See also
External Links