Funky C Funky Do
From Rocklopedia Fakebandica
Jump to navigation
Jump to search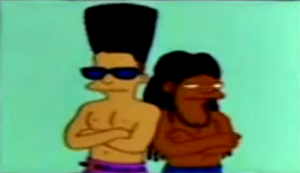 From The Simpsons episode, "Radio Bart" (01/09/1992).
A briefly mentioned/shown hip hop-looking shirtless duo whose song "I Do Believe We're Naked," knocks the celebrity benefit tune "We're Sending Our Love Down the Well" out of the number one spot.
A bit of their synth driven dance pop can be heard at the beginning of the episode as Lisa watches TV and dances inappropriately to it.
External Links