Franklin Bluth
From Rocklopedia Fakebandica
Jump to navigation
Jump to search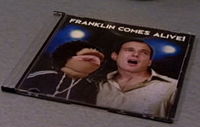 From the TV series Arrested Development. An African-American ventriloquist dummy who promoted racial healing by duetting with George "Gob" Bluth II (Will Arnett) during "Righteous Brothers," the season-two finale (first aired 17 Apr. 2005). The duo spent $5,000 making the album Franklin Comes Alive as a birthday gift for Gob's brother Michael (Jason Bateman). (Gob borrowed the 5K from Michael, of course.) The album included a truly stunning cover of Bryan Adams' "(Everything I Do) I Do It for You" and this wonderful musical exchange:
Gob: "It ain't easy being white."
Franklin: "It ain't easy being brown."
G: "All this pressure to be bright."
F: "I got childrens all over town."
Sadly, the African-American studio engineer walked out in protest at this point, so we didn't hear the rest of what was surely going to be a sensitive and nuanced treatment of race.