DuJour
From Rocklopedia Fakebandica
Jump to navigation
Jump to search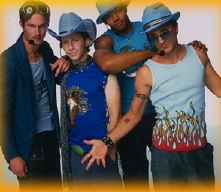 Parody number one boy band from the beginning of the 2001 film Josie and the Pussycats. They sing the songs "Backdoor Lover" and "DuJour Round the World" (both on the soundtrack album). When they learn THE HORRIFYING TRUTH that their music is being used to convey subliminal messages to teens, they are abandoned mid-flight. The boys manage to land the plane safely, only to narrowly escape death when it turns out that they have landed in the middle of a heavy metal festival; the metal fans attempt to tear them apart.
Lineup: D.J. (Donald Adeosun Faison), Travis (Seth Green), Marco (Breckin Meyer), and Les (Alexander Martin). Their evil manager was Wyatt Frame (Alan Cumming). Official Site.
See also Josie and the Pussycats.