Dotty Draper
From Rocklopedia Fakebandica
Jump to navigation
Jump to search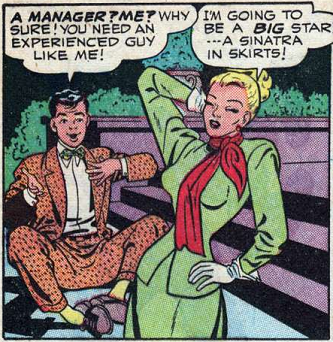 Hat check girl at the El Kissco Club with dreams of being a "Sinatra in skirts." From the Ace Magazines comic book Four Teeners #34 (April 1948). Right after that, they spun Dotty out to her own comic, Dotty, briefly, from June 1948 to May 1949.
She gets pal Lester Clogg to be her manager when J.Q. Plunk of Babble Broadcasting Co. chases her down with a job offer. But it turns out he just wanted her to record a scream effect for a suspense radio show theme song with the Schmaltz Symphony Orchestra. Cue the sad trombone!
In the rest of the comic books, she's just dealing with all her boyfriends.
See Also
External Links