Donna "Hot Lips"
From Rocklopedia Fakebandica
Jump to navigation
Jump to search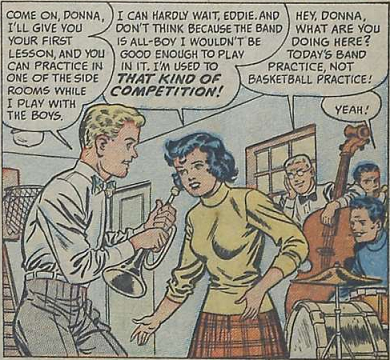 Eventual trumpeter in "The Taming of a Tomboy" story of comic book Hi-School Romance #36 (February 1955). She's crazy for swing music even though she's a teenager and it's 1955 already. She listens to radio program Saturday Night Swing Session, and gets fellow high-schooler Eddie Boyd to teach her trumpet.
She immediately earns the mocking nickname "Hot Lips" but quickly improves and after an awkward, awkward date with Eddie, strong-arms him into letting her join his unnamed band. She impresses the crowd, getting them two more gigs.
Donna's last name is never given.
See also
External Links