Don Morton
From Rocklopedia Fakebandica
Jump to navigation
Jump to search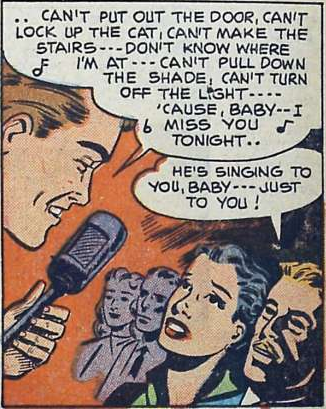 Handsome young singer and coal miner from the small coal mining town of Greenville, in the "Sheltered Love" story of romance comic book True Sweetheart Secrets #5 (December 1951).
Talent director Sheila Sedgewick of Talent Unlimited goes to see Morton after being impressed by his demo record: "A tenor, silken-smooth and golden!" But he thinks she's just working some scan on him, and refuses all her offers. He didn't even send in the record, it was probably done by Bob Dixon; Morton sings with his band on weekends.
They quickly fall in love, but Sheila's afraid success will take him away, like her previous love, singer Jerry Lynn. She decides to let Morton stay undiscovered, but then her partner Steve Shayne shows up and tells her off. And when Mortons and his mother talk about how his dad died in a mining accident, she leaves suddenly and gets him an offer from top band Vic Raymond and his Royal New Yorkers.
She thinks he's lost him, but she hasn't, and after his first show with Raymond, they reunite.
Lyrics:
Can't put out the door,
can't lock up the cat,
can't make the stairs...
Don't know where I'm at...
Can't pull down the shade,
can't turn off the light...
cause, baby, I miss you tonight..
See also
External Links