Death Lurks
From Rocklopedia Fakebandica
Jump to navigation
Jump to search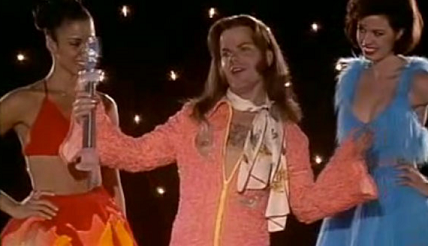 Anger 'n' angst-filled metal band fronted by long-haired metal dude Grivo (Bruce McCullough) who sings "Some Days It's Dark" at The Suicide Club in the 1996 Kids In The Hall movie Brain Candy.
After taking Gleemonex, the miracle antidepressant drug of the title, he becomes a happy-go-lucky popster with a sunshiny new song ("Happiness Pie"), that wins the World Video Award for best new contemporary song. Both songs are on the soundtrack album; Bruce did his own singing, backed by real Canadian band The Odds.
Several Kids in the Hall members appeared in The Odds music video for "Heterosexual Man" and Odds' member Craig Northey scored the film.
See also
External Links
{{#ev:youtube|c6xqSYNKdf0}}