Category:Phantom of the Opera
From Rocklopedia Fakebandica
Jump to navigation
Jump to search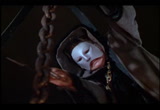 This category is for fictional singers, composers, musicians, etc. from the original 1910 novel The Phantom of the Opera by Gaston Leroux, and all of its subsequent interpretations in other media.
External Links
Pages in category "Phantom of the Opera"
The following 6 pages are in this category, out of 6 total.