Alvin and the Chipmunks
From Rocklopedia Fakebandica
Jump to navigation
Jump to search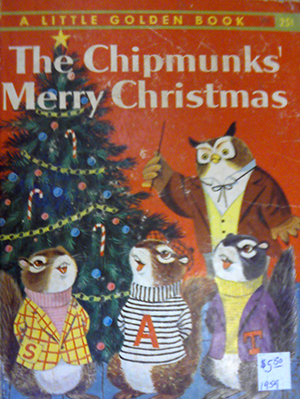 This trio of high-pitched rodents was invented by Ross Bagdasarian (aka Dave Seville) way back in 1958. Ross had already had a hit fooling around with tape speed trickery on the single "Witch Doctor," released April 1, 1958 under the name Dave Seville. Working up the gimmick into three-part harmony, he released "The Chipmunk Song (Christmas Don't Be Late)" on November 17, 1958 as Dave Seville and the Chipmunks. It won three Grammy Awards: Best Comedy Performance, Best Children's Recording, and Best Engineered Record (non-classical). Let that sink in. THREE. GRAMMY. AWARDS.
They starred in the CBS animated tv series The Alvin Show, 1961-1962.
They've been around longer than the Rolling Stones, which ain't bad for what amounts to a glorified cover band. They had EIGHT top 40 hits from Dec. 1958 to Dec. 1962. Granted, three of those were the same recording of their Christmas novelty, "The Chipmunk Song". Even more bizarrely, they once covered that tune in a collaboration with 60's blues rock band Canned Heat!
Ross retired the group in 1967. After Ross's death in 1972, his son, Ross Bagdasarian, Jr., took over the franchise and revived the group with their dark horse 1980 comeback album, Chipmunk Punk (Excelsior/Pickwick XLP-6008). This led to a 1981 TV Christmas special, A Chipmunk Christmas, and then a new animated series on NBC, Alvin & the Chipmunks, 1983-1991.
They've also made some TV movies and straight-to-video movies:
Alvin and the Chipmunks: Trick or Treason, 1994
A Chipmunk Celebration, 1994
Alvin and the Chipmunks Meet Frankenstein, 1999
Alvin and the Chipmunks Meet the Wolfman, 2000
The members are Alvin, the roguish egotistical leader, Simon the bespectacled smart one, and Theodore the fat one who likes to eat. And of course, their manager and father figure, Dave Seville- "ALVVV-I-I-I-I-N!!"
See also
External Links