Alexander's Ragtime Band
From Rocklopedia Fakebandica
Jump to navigation
Jump to search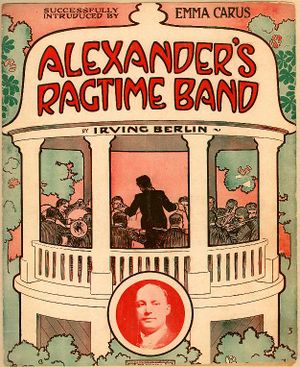 This fictional band was the title of Irving Berlin's 1911 hit song, "Alexander's Ragtime Band," with sheet music published by the Ted Snyder Co.
There were several knock-offs, sequels, what have you, all by various other composers:
"Alexander's Jazz Band," lyrics by Monty C. Brice; music by Walter Donaldson, 1917
"Alexander's back from Dixie! (With his Ragtime Band)," lyrics by Lew Cobwell; music by Pete Wendling
"When Alexander Takes his Ragtime Band to France," 1918, written by Alfred Bryan, Cliff Hess, and Edgar Leslie. It was published by Waterson, Berlin & Snyder, so it possibly was Berlin-approved. In the song, the singer says Alexander's band is going to war-torn France where their playing will "...put the Germans in a trance; They'll throw their guns away..."
Film version
In 1938, there was a film version, Alexander's Ragtime Band which turned the band into a very fictionalized version of Berlin's life. Society boy Roger Grant (Tyrone Power) ditches the highbrow crowd to play lowbrow ragtime in 1915 San Francisco. He takes the name of the song as the name for his band, and becomes Alexander, too. He adds singer Stella Kirby (Alice Faye), who gets replaced by Gerry Allen (Ethel Merman!). Band member Charlie Dwyer (dapper Don Ameche) is the third member of the love triangle between him and Stella and Alexander. The movie follows them through WWI and after, with a plethora of Berlin tunes at every moment.
External Links