A Popular Band
From Rocklopedia Fakebandica
Jump to navigation
Jump to search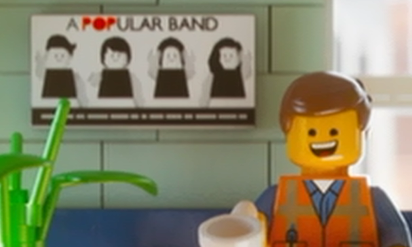 (Stylized as "A POPULAR BAND.") Foursome whose poster is briefly glimpsed in the apartment of completely average hero Emmet Brickowski (Chris Pratt) in the 2014 animated film The Lego Movie.
In the 2019 sequel, The Lego Movie 2: The Second Part, it's revealed that Wyldstyle/Lucy (Elizabeth Banks) was in the band, and was responsible for their hit, "Everything Is Awesome."
Lego released a "Flashback Lucy" minifig as part of a series of figures from the movie (set 71023). She has blue and purple hair, microphone, and an "Everything Is Awesome" gold record.
The first movie never gives the artist for the song, but the second movie adds to her backstory as the former singer of the band and the song is credited to the band.
See also
External Links