The Orchoptitron
From Rocklopedia Fakebandica
Jump to navigation
Jump to search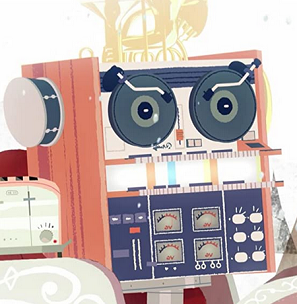 Music-making robot invented by genius dog Mr. Peabody in the animated kids' television series The Mr. Peabody & Sherman Show, a revamped version of the original "Peabody's Improbable History" segments of The Adventures of Rocky and Bullwinkle and Friends show (1959-1964).
Peabody invented him to be the house band on his show. He has turntables for eyes, and a number of brass wind instruments sticking out the top.
He features prominently in the "Orchoptitron in Love" episode. When Orchoptitron's girlfriend dumps him, Mr. Peabody and Sherman play matchmaker and hook him up with a toaster.
External Links