Rosamond Farling
From Rocklopedia Fakebandica
Jump to navigation
Jump to search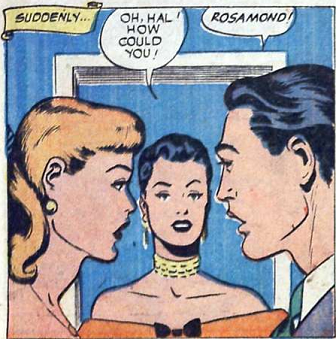 Singer from "The Other Girl in His Life" story in romance comic book Love at First Sight #10 (July 1951).
She sang for bandleader Hal Drake's band. Hal picked her as an unknown and groomed her into a success. They were going to be married when Rosamond jilted him, quit the band, and married a wealthy socialite named Bert.
After losing Farling, Hal repeats his formula with unknown new singer Christie Jerome, grooming her into a success, and proposing to her!
But after Rosamond hears that Hal got married on the rebound, she leaves Bert during the honeymoon and pleads with Hal to get back together, "I want to keep singing. I'm going to divorce Bert! I made a mistake!"
Christie thinks she's lost Hal to Rosamond, but Hal comes back to Christie, having learned some kind of weird lesson.
This all leaves Rosamond in the very, very awkward position of having deserted her new husband on their honeymoon for her ex, who just totally rejected her.
See also
External Links