Hal Drake
From Rocklopedia Fakebandica
Jump to navigation
Jump to search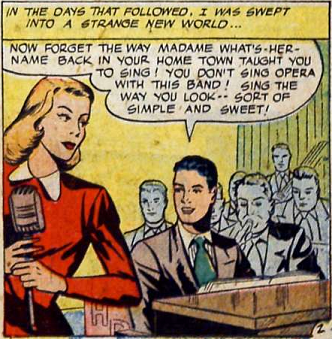 Halbrook "Hal" Drake is a successful bandleader from "The Other Girl in His Life" story in romance comic book Love at First Sight #10 (July 1951).
After losing his girlfriend/singer Rosamond Farling, he auditions for a new singer, and picks mousy nobody Christie Jerome, over the objections of members of his own band. But after he grooms her, trains her, and gives her a makeover, those band members are soon eating crow.
Unfortunately, he's still hung up on Rosamond, and after only several weeks, he sort-of-proposes to Christie as a way to spite Rosamond.
But Christie agrees to get married because she really loves Hal. But after Rosamond hears that Hal got married on the rebound, she comes back and pleads with Hal to get back together.
Christie thinks she's lost Hal to Rosamond, but Hal comes back to Christie, having learned some kind of weird lesson.
See also
External Links