The Praise Team
From Rocklopedia Fakebandica
Jump to navigation
Jump to search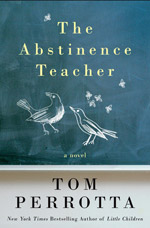 Local church band from the 2007 novel The Abstinence Teacher by Tom Perotta.
Member Tim Mason is a major character in the book.
He slipped between them as unobtrusively as he could and stepped onto the stage, nodding hello to Bill Spooner, the lead guitarist and bandleader, who was down on his knees fiddling with his pedalboard, an elaborate miniature city of metal boxes and multicolored wires.
"Brother Mason." He spoke softly, acknowledging Tim's arrival with a sardonic salute. "Rock on."
"Amen," Tim muttered in reply. "Turn it up to eleven."


For Tim, Sunday worship was an easy gig; all he had to do was tune up, plug in, and play. His Fender jazz Bass and Peavey amp were already up on stage, right where he'd left them last week, and the week before that. He didn't bother taking them home anymore.
Unlike a couple of guys from the Praise Team— Bill fronted a popular oldies band called Gary and the Graybeards, and the drummer, Ben Malinowski, played in a jazz trio that had a regular Saturday night booking at the Red Roof Inn in Gifford Township- Tim no longer had a musical life outside the Tabernacle. That world was just too fraught with temptation. He wasn't the kind of reformed alcoholic who could spend the night in a bar drinking nothing but Diet Coke..."