The Little Upright Piano
From Rocklopedia Fakebandica
Jump to navigation
Jump to search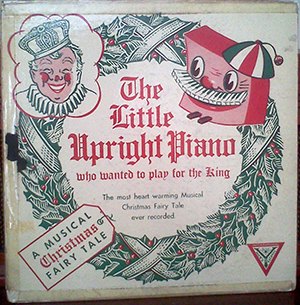 Anthropomorphic piano in the obscure 1955 78rpm record The Little Upright Piano Who Wanted to Play for the King and its b-side "The Christmas Party." He's nervous to play for the King, especially when competing with all those, you know, GRAND pianos. Damnable piano racism rears its ugly head! Fortunately, the Queen gives TLUP his big chance, and he doesn't blow it. It's all very much like Tubby the Tuba, only Christmasey.
The album was composed and performed by Henry L. Scott, who touts himself in the liner notes as a premier classical music comedian as if Victor Borge and Anna Russell never existed. The album was released on the "Y's Men" label as a YMCA fundraiser.
Here's some Scott info from an old University of Minnesota 1969 press release:
University of Minnesota Events
(FOR IMMEDIATE RELEASE)
HENRY L. SCOTT WILL GIVE 'CONCERTO FOR FUN'
JANUARY 30, 1969



"Concerto for Fun," a program of both classical and popular music, pantomime and humor by Henry L. Scott, will be presented Thursday, Feb. 2, at 12:15 p.m. in Coffman Union main ballroom at the University of Minnesota.

This will be the sixth appearance at the University for Scott, who has presented his "Concerto" in a one-man show on Broadway. The program, open free to the public, is sponsored by the Union Board of Governors and the University convocation committtee.

Scott received his formal training as a pianist at Syracuse university and the Mannes School of Music. He has appeared in concert at Carnegie Hall and Town Hall in New York and has performed with the symphony orchestras of Buffalo and Rochester, N.Y. Toronto, and Cincinnati. His home is in Rhineback, N.Y.

Recordings by Scott include "The Little Upright Piano," "Clavichord Joe" and "Jingle Bells" -- all for children.
External Links